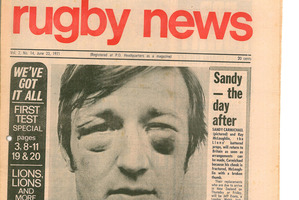 Popular sports magazine Rugby News will stop its print edition at the end of the month and get set to roll out its new-look digital magazine in the new year.
The move comes as a result of the changing nature of news and technology and how people now read their news, said spokeswoman Margaret Mitchell.
"Everyone in the media is under the same influences right now. We sort of see this as the next stage in the evolution of our Rugby News weekly magazine. It reflects the changing nature of readers' behaviour ... and it will grow with their future demands," she said.
"It seems to be a natural step. It's a positive transition for the company, to position our weekly brand in that digital space and it's going to provide a broader reader engagement."
The magazine was first established as a black and white newspaper, published in 1970. Over the years it attracted a huge readership audience, with the latest figures showing it to have a rugby readership of 291,000 a month.
But a drop in consumer sales over the past few years has seen its publisher - Media Titles Group - embrace the move to go digital.
Ms Mitchell said the new online magazine, which will be free, is also set to introduce sub-sites and blogs in order to keep in touch with readers.
"We'll be launching a Facebook page and other interactive measures to keep in touch with our readers.
"The new digital magazine offers us the opportunity to globalise our brand and hugely increase our readership," Ms Mitchell said.
An introductory digital version of Rugby News will go online next month, on November 8. The first full edition goes online in February.