Company talking to brokers and financial advisers says it would need to feel confident of ongoing demand.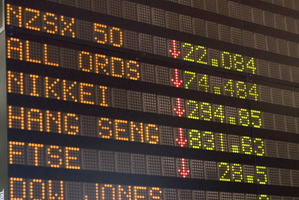 A British firm which manages the money on behalf of three investment trusts listed on the New Zealand stock exchange says it is considering listing more trusts here.
James de Sausmarez, head of investment trusts at Henderson Global Investors, said it might look to list the London-listed Henderson International Income Trust and Henderson EuroTrust on the NZX.
The firm already manages the money for the NZX-listed The Bankers Investment Trust, Henderson Far East Income and Henderson Asian Growth trusts.
De Sausmarez, in New Zealand this week talking to brokers and financial advisers, said he would need to feel confident of ongoing demand for the trusts before making a commitment.
"We would need to be sure there is a bit more demand. The reason we are here is to try and raise the profile [of the trusts]."
De Sausmarez said it could look to raise money and issue more shares if it went ahead with a listing of the Henderson International Income Trust.
The investment company was set up last year and has a market capitalisation of £48 million ($94.4 million). It invests in 40 to 60 international firms outside Britain and aims to provide a high and rising level of dividends as well as capital growth.
The EuroTrust has a market capitalisation of £105 million and invests in medium to large sized companies in Europe.
De Sausmarez said if there was support the trusts could be listed next year.
He will also visit Australia this week as part of plans to consider listing the investment companies there.
British investment trusts flocked to the New Zealand share market in the mid-1990s offering investors the chance to take advantage of a tax loophole.
Peter Irwin, director of First New Zealand Capital's wealth management investment trusts division, said the tax advantages were closed off in 2006 when the Government introduced the new fair dividend rate regime.
There were 14 to 15 overseas-based investment trusts listed in New Zealand but that had since fallen to 11, Irwin said.
The Bankers Investment Trust has a market capitalisation of $942.7 million and has been listed in NZ since February 1995.