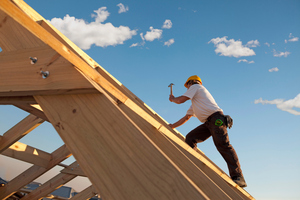 File photo / Thinkstock
A building company has been fined $22,100 after a contractor's employee fractured his back falling more than three metres from a roof.
Keith Hay Homes was ordered to pay out after the employee was injured while working on a single storey house in Glen Innes, Auckland last year.
Auckland District Court heard that on June 9, 2011 three employees of Metind Limited were working on the building.
While reaching down to secure a safe hold on the ridge of the damp roof, one slipped and fell about 3m to the ground, fracturing his lower back and several ribs and damaging shoulder tendons and ligaments.
A investigation found the fall could have been prevented if the defendant had planned a safe approach to working at height and had appropriate roof edge protection in place, said the Ministry of Business, Innovation and Employment's labour department.
"Preventing falls from height is a priority for (the ministry) and we expect everyone with staff or contractors working at height to actively manage this significant hazard," said department northern general manager John Howard.
- APNZ