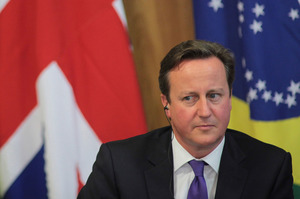 British Prime Minister David Cameron has threatened to veto the new European Union budget in a show of tough talking as his Conservative party opened its annual conference.
Cameron's comments overnight appeared to be a sop to rightwingers who are unhappy at his leadership, with the party trailing the Labour opposition by 14 points going into the meeting in Birmingham, central England.
The Conservatives lead a coalition government with the smaller Liberal Democrats but halfway through their five-year term Britain remains mired in recession despite harsh austerity measures.
Labour leader Ed Miliband piled pressure on Cameron earlier in the week when he gave a bravura speech at his party's conference in which he hijacked a number of key Conservative themes.
Cameron, who addresses the Conservative conference on Wednesday, sought to hit back by saying that he would not stand for "outrageous" attempts to hike the EU budget in November.
"I feel we're in a strong position, and if it comes to saying no to a deal that isn't right for Britain, I'll say no," Cameron told the Sunday Telegraph newspaper.
One minister called last week for more "veto moments" from Cameron, who angered other EU leaders by keeping Britain out of the EU fiscal pact last year but won support from the right of his party.
Cameron also proposed a possible two-tier budget, with one for the 17 nations in the debt-hit eurozone and another for the 10 EU countries, including Britain, that do not use the single currency.
He said voters would get a say on Britain's place in the 27-member bloc amid concerns over the impact of the eurozone debt crisis, although he refused to say there would definitely be a referendum.
The Conservative leader insisted that the British economy was "rebalancing" towards the private sector with a million new jobs since he took power.
In a further attempt to reach out to voters ahead of the next general election, due in 2015, Cameron also launched his own Twitter account on Saturday.
Opening the conference the next day, Conservative chairman Grant Shapps urged the party not to be "shy" about its record since it came to power in 2010.
"We are getting Britain back on track. Why are we so shy to talk about our achievements in government?" he told delegates.
A YouGov poll published in The Sunday Times newspaper showed that the message is not getting through.
It put the Conservatives on 31 per cent, Labour on 45 per cent, with the centrist Liberal Democrats on eight per cent and other parties on 15 per cent combined.
A separate poll in The Observer newspaper asked Conservative voters who they would prefer to replace Cameron as party leader, with 35 per cent saying London Mayor Boris Johnson and 20 per cent saying Foreign Secretary William Hague, a former leader.
The ebullient Johnson, who is due to address the conference on Tuesday, is widely believed to be gearing up for a possible leadership challenge on the back of the success of the London 2012 Olympic Games.
But Cameron praised Johnson, telling the BBC he had a "huge amount to offer".
The Conservatives have meanwhile been dogged by a series of gaffes and governance failures.
New Health Secretary Jeremy Hunt sparked fury by admitting in The Times newspaper on Saturday that he backs a reduction in the time limit for abortions from 24 weeks to 12.
His comments distracted from what was expected to be a major effort by Cameron to focus during the conference on the state-funded National Health Service.
The government was last week forced to scrap a decision stripping Richard Branson's Virgin group of its rail franchise after admitting there had been flaws in the bidding process.
And government Chief Whip Andrew Mitchell meanwhile reportedly pulled out of the conference after allegedly calling police at Downing Street "plebs" because they would not let him take his bicycle though the front gates.
- AFP