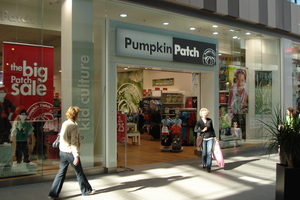 Pumpkin Patch's online sales have grown to a tenth of its total revenue and the children's clothing retailer expects its web-based business to expand further.
The Auckland-based company says its global internet sales exceeded $30 million in the year to July.
Total revenue was $300.6 million in the same period, up 3.1 per cent on the year before.
Profit before reorganisation costs of $10.1 million was 19.9 per cent below the previous year, but ahead of the market's expectations.
A $27.5 million full-year net loss included one-off costs related to store closures.
Chief executive Neil Cowie said global online earnings exceeded the earnings before interest and tax generated by all the firm's New Zealand stores.
"Our online sales in Australia are the equivalent of around 11 per cent of our retail sales which is twice that of the average Australian retailer."
Cowie said the reaction to Pumpkin Patch's new "click and collect" service - where customers order online and then pick up the goods from a store - had been "way above our expectations".
Online sales would continue to grow this financial year, but at a slower rate than previously, the company said.
Mark Lister, head of private wealth research at Craigs Investment Partners, said the fact Pumpkin Patch gave so much information about its web trading suggested it was performing better than other listed retailers in the online space.
Kathmandu indicated last week that its web-based sales were "well less" than 5 per cent of total revenue.
The Warehouse said this month its online sales grew 63 per cent in its last financial year.
Pumpkin Patch shares were down 1c yesterday at $1.17.