China slowdown partly to blame for layoffs but there is still no cause for panic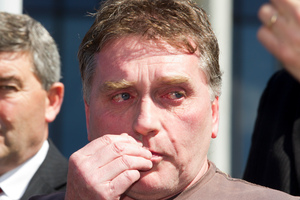 The toll of lost jobs this month is striking: 100 from Tiwai Pt aluminium smelter, 120 from the newsprint mill at Kawerau, two Nuplex Industries plants in Auckland to close, 20 jobs lost from the Newmont gold mine at Waihi and, most recently, 230 to go from Solid Energy's Spring Creek coal mine near Greymouth and 63 from the Huntly East Mine. Add to that list the previously announced lay-offs by KiwiRail, negotiated down to 158 this month.
Every staffing reduction or mine closure reflects its own circumstances but a common contributing cause is low world prices for minerals such as coal, reflecting reduced world demand that undoubtedly results from the slowing of the Chinese economy this year.
China is far from recession but such is the scale of its economy and consumption now that the adage about a Wall St sneeze probably also applies to China. Australia has caught the cold and so, it seems, have we. The jobs lost at Tiwai Pt and Waihi are part of a larger retrenchment.
BHP Billiton and Rio Tinto have laid off hundreds of staff across the Tasman and scaled back development plans worth billions.
It has been partly thanks to China that New Zealand has had a fairly comfortable ride through the international slump, until now. Unemployment hovered around 6.5 per cent for three years but rose to 6.8 per cent for the year to June.
That figure was still mild by comparison with previous highs and reflects 0.6 per cent economic growth in the June quarter, which was better than most pundits were expecting. The lay-offs announced since June are a worry but we may be as pleasantly surprised by GDP for the quarter ending this month as we were when the June figure came through.
Lay-offs in large industries like coal mines, railways, a pulp mill and an aluminium smelter are highly visible and very unsettling for everybody involved, particularly when they are helping to sustain whole towns such as Greymouth, Kawerau and Invercargill. Re-employment by contrast tends to be less visible.
It typically happens quietly, on a smaller scale and in more diverse locations and occupations. The town might lose some people but the people will find another job. It might not be the job a miner or railwayman would prefer but it is a job that can be sustained. Amid all the news of lay-offs this month it was announced that 300 new jobs will be created by The Warehouse when it opens three new outlets at Silverdale, Mt Roskill and Royal Oak next month.
Opposition politicians scoff at those sort of jobs and lament population shifts. The Spring Creek miners have marched on Parliament to ask the Government to help them revive the mine with a public subsidy. That would be a panic measure and the Government has properly rejected it. But it would be just as panic stricken to withdraw environmental appeals against an open-cast coal mine on the Denniston Plateau, as Employment Minister Steven Joyce urges Forest and Bird to do.
Employment is often late to show the effects of recession and late to show an economic recovery. Employment here was certainly expected to suffer from the global downturn more than it has. It seems to be taking a belated blow now but we should not be too quick to read the omens.
Underground coal mines, railways, aluminium smelting and the like never were the real wealth of provincial economies. Dairy farming, horticulture and forestry have proven to be better investments over the years. This is a time to look for jobs that have a future.