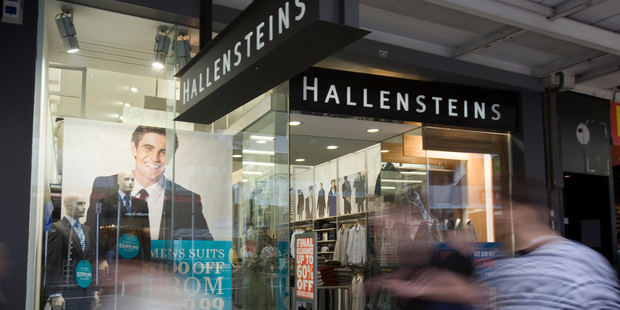 Hallenstein Glasson Holdings, the clothing chain, posted a 15 per cent increase in full-year earnings, beating estimates as the retailer increased market share. The stock rose 2.4 per cent.
Profit gained to $21 million in the 12 months ended August 1, from $18.3 million a year earlier, the Auckland-based company said in a statement.
Sales increased 4.9 per cent to $215.6 million. Profit exceeded the retailer's own guidance of $20.4 million to $20.8 million and beat market consensus of $20.4 million.
The stock rose to $4.70 and has gained about 34 per cent this year. It is rated 'on hold' based on the consensus of five analysts in a Reuters survey. The board will pay a final dividend of 19 cents per share up from 17 cents last year, taking the annual payout to 33.5 cents. It will be paid on December 9.
"Despite an economic environment in both New Zealand and Australia that can be categorised as anything but helpful to retail all chains in the group performed well and increased market share," chief executive, Graeme Popplewell said.
Glassons New Zealand lifted sales by 2.2 per cent to $91 million, while profit increased 5.4 per cent to $10.7 million.
In Australia, Glassons sales rose 9.7 per cent to $39 million. It turned a profit of $397,000 from of a loss of $248,000 a year earlier.
"The business in Australia is beginning to show positive returns and further store will be added as sites become available," Popplewell said. "The retail environment in Australia is undergoing considerable change and to some extent the market is experiencing a delayed impact from the global financial crisis."
"While government intervention initially softened the blow that has now played out and we are witnessing fallout at every level," he said.
Hallenstein sales rose 4.2 per cent to $77.5 million and profit increased 17.7 per cent to $7.7 million.
Profit for the group's Storm outlets rose 47 per cent to $1.3 million as sales increased 25 per cent to $7.5 million.
The company will continue to focus on its online presence as well as improving its bricks and mortar stores. In the past 12 months it refurbished four Glassons stores and opened a Storm store in Dunedin.
Earlier in March, a Glassons store was opened in Melbourne followed by a store in Brisbane.
Sales for the first seven weeks of the new financial year are up 7 per cent, with profitability ahead of last year, Popplewell said.
"While this is a good start, in a macro economic sense there is little on the horizon that suggests the environment in which we operate will materially improve," he said. "Despite historically low interest rates the consumer remains cautious and has the opportunity with the internet to browse and shop on a truly international stage."