Chief says outdoor sales resilient but sentiment still down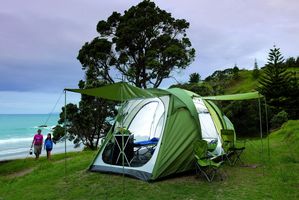 Kathmandu shares rose yesterday after the outdoor apparel retailer's annual result showed an improved performance in the second half of the year, but its boss says consumer sentiment remains depressed and customers are more discerning than ever.
"Most retailers are probably working harder than they've ever worked and [they] have got to be smarter and savvier and more creative," said chief executive Peter Halkett.
Despite the difficulties, he said outdoor apparel was a good space to be in.
That was demonstrated by Kathmandu lifting its total sales 13.4 per cent to $347.1 million in the year to July 31, Halkett said.
Kathmandu shares, which initially gained more than 7 per cent following the result, closed up 4c at $1.74 last night.
Halkett said Kathmandu expected an improved performance in its current financial year, provided there was no deterioration in economic conditions.
"The outdoor category remains very resilient," Halkett said. "Having said that, because it's a great category we have a lot of competitors diving into this space."
Kathmandu posted a 10.7 per cent drop in full-year net profit to $34.9 million, while earnings before interest and tax (ebit) fell 10.9 per cent on the prior year to $57 million.
Halkett said second half ebit of $44.3 million was an improvement on the prior year following a difficult first half, in which the company posted a 42 per cent slump in net profit.
New Zealand outperformed Australia in terms of same-store sales growth in the year to July.
Matthew Goodson, a portfolio manager at BT Funds Management, said it was a good result.
"They had a difficult result in the first half - the thing about retail is your costs don't change much between halves but sales can be completely different," Goodson said.
Halkett said Kathmandu had invested a large amount of capital into expanding its online presence over the year.
The retailer's website was now its biggest single store across Australia and New Zealand, although online revenue was still "well less" than 5 per cent of total sales, he said.
Halkett said Kathmandu was chasing profit and sales growth in the United Kingdom by growing online business there.
- Additional reporting: BusinessDesk