Australians and Kiwis clamouring to get on ships as cruise industry booms in region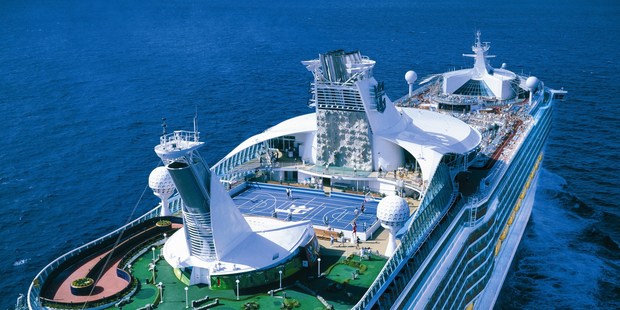 This summer will be New Zealand's busiest cruise season yet in what is the fastest-growing region for the sector in the world.
While parts of this country's tourism sector is in the doldrums, the cruise industry is booming, returning hundreds of millions of dollars to local economies.
More ships are being based here and this summer will see the arrival the Voyager of the Seas, the biggest ship to visit in terms of passenger numbers, and for the first time all three Cunard Queens will be in our waters.
Today Auckland authorities will reveal more details of a $14.6 million cruise terminal, a development one company says puts the city at "the top of the hit parade" of ports in the region.
Revenue from cruise ships was last year an important fillip for the Ports of Auckland company, whose bottom line was hit by a bitter industrial dispute, and says cruise ship visits have increased by 62 per cent in the past two years and will crack the ton this season.
Gavin Smith, chief executive of Royal Caribbean Cruises in Australia and New Zealand, attributes the rapid growth to strong economic growth in Australia and the continued appeal of the New Zealand's coastal scenery and the welcome mat put out by ports.
"This region still remains a very aspirational destination. The North Americans and the Europeans still want to come here."
Royal Caribbean will carry 10 times the number of passengers this season than in its first just two years ago.
Most of its 60,000 passengers will be from the United States, Australia and Europe and in an example of success breeding success, bigger and better ships are heading this way.
Its Voyager of the Seas, complete with an ice-skating rink and rock climbing wall, can carry up to 3100 passengers.
"The economics provide the reason to send big modern ships," said Smith who also chairs the Australasian International Cruise Council.
The global financial crisis had a big impact on the cruise industry and there is now a more conservative approach to building big ships.
Around 18 ships bigger than 300m long and capable of carrying 3000 passengers are being built or under order, about half the number before 2008.
"The industry is just starting to regain its confidence and order new ships.
New ships invariably go to Europe and North America but this frees up more ships for the Australasia-South Pacific region.
The industry worldwide had recovered from fallout from the sinking of the Costa Concordia which had dented bookings in Europe for about three months but not had much affect here.
Carnival Cruises has lines including P&O, Cunard and Princess Cruises in its stable and says the number of port visits by cruise ships coming to New Zealand will increase by 10 per cent to 440 this coming season.
In the 2011-2012 cruise season, Carnival ships brought more than 100,000 passengers to Auckland alone and the company estimates that contributed around $200 million to the economy.
An Auckland visit can involve an estimated $150,000 in local NZ products - fresh fruit and vegetables, dairy, meat and seafood.
Spokesman David Jones said the "dramatic" growth could be attributed partly to more families and couples taking cruises.
"From a regional point of view we're in the world's fastest growing cruise market.
Two Costa ships are visiting this summer which he said illustrated the success of this market.
Jones said the Shed 10 development on Queen's Wharf put Auckland at the "top of the hit parade at the moment" in the region.
On the horizon
* Fewer ships being built but almost all are big - more than 300m long.
* Cruise lines face cost increases of up to 5 per cent - look out for fare increases.
* More balcony cabins on ships.
* Onboard fitness is more popular - bigger, better located gyms, healthy food and spa treatments.