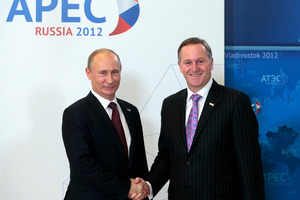 Prime Minister John Key is holding talks with Russian President Vladimir Putin this evening - for the first time.
It's one of a number of high level meetings John Key will be involved in during his time at the APEC summit in Vladivostok this weekend.
At the top of the 7pm meeting's agenda: Advancing talks on the Free Trade deal between Russia and New Zealand.
Mr Key will also raise his opposition to Mr Putin's pro-Syria stance, saying he wants to know why Mr Putin's so opposed to UN Security Council action.
He met the Malaysian Prime Minister earlier today to discuss trade issues and will sit down with the leader of Mexico tomorrow.
-Newstalk ZB