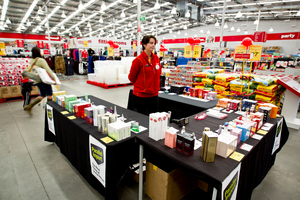 Investors want to see how The Warehouse Group fares over the peak Christmas season before judging its turnaround strategy, after the biggest retailer on the NZX 50 Index met guidance with a 14 per cent drop in 2012 earnings.
Profit before one-time items was $65.2 million in the 12 months ended July 29, down from $76 million a year earlier, the Auckland-based company said. Sales rose 3.9 per cent to $1.7 billion, in line with the retailer's May forecast of an adjusted net profit after tax of $62 million to $66 million.
Analysts had been expecting the Red Shed to better its guidance with earnings of $68.2 million.
Last year, The Warehouse launched a strategy to reverse a seven-year decline in same store sales, including creating a clearer brand and what it called "a better approach to product, price and promotion and improved store experiences". The company expects retailing to face mixed trading conditions next year, with earnings significantly influenced by its Christmas-New Year performance.
"The jury is still very much out on their turnaround strategy," said Matthew Goodson, portfolio manager at BT Funds Management. "It is a question of whether they are going to get a sufficient return on the money they are spending - there is nothing in this result to change that question mark."
The shares closed yesterday down 4c at $2.86.