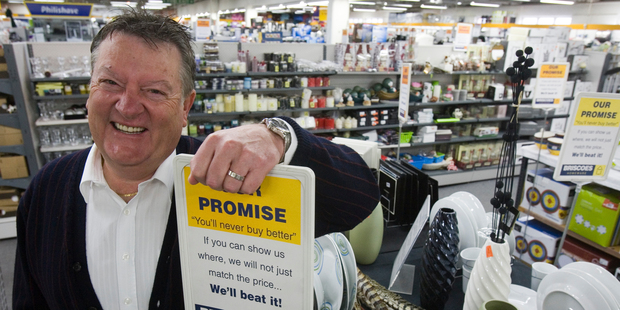 Briscoe Group boss Rod Duke says the company is on track to beat the record annual profit of $27.53 million it posted in its past financial year.
As many retailers struggle amid tough trading conditions, the Auckland-based firm - which operates Briscoes, Living & Giving and Rebel Sport stores - yesterday posted a solid interim result.
Net profit after tax of $13.28 million for the half-year to July 29 was 28.6 per cent up on the comparable period last year, the company said.
Sales reached $204.73 million, compared with $194.10 million in the previous half-year, while earnings before interest and tax climbed 28.87 per cent to $17.47 million.
The company said it would pay an interim dividend of 4c a share - which represented 64 per cent of the group's net profit - up from 3.5c a share in the first half of its previous financial year.
While the economic outlook remained uncertain, Duke said the company was "cautiously optimistic" about the second half.
"The strong first half should enable us to more than offset the one-off boost in business levels generated in the third quarter of last year on the back of the Rugby World Cup," he said. "The group is well placed to better last year's full-year reported profit of $27.53 million."
The company said homeware sales in the half-year increased 5.49 per cent to $130.09 million, while sporting goods sales lifted 5.46 per cent to $67.50 million.
"Customer confidence remained subdued throughout most of the first half of the year as the economic news focused on the deepening financial worries being experienced in Europe and the potential flow-on effects for the New Zealand economy," Duke said.
"Against this background, customers tended to react by maintaining conservative spending habits, suggesting that the group's sales gains have resulted in improved market share."
In a research note earlier this year, Morningstar analyst Nachi Moghe said Briscoe Group had benefited from competitor The Warehouse's poor execution over the past two to three years. But he warned this could change with a turnaround at the Red Sheds.
The Warehouse, which reports its full-year result today, is in the midst of a revamp of its stores that aims to increase their appeal to shoppers and claw back lost market share.
Duke said websites launched for all three of the company's retail brands late last year continued to grow and develop.
"Sales and earnings contributions are continuing to improve as we work to maximise the opportunity presented by online retailing."
Briscoe Group shares closed steady yesterday at $1.96.