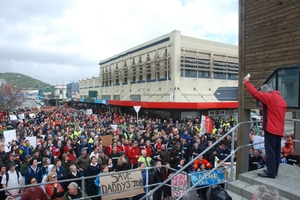 As anger mounts on the West Coast over the suspension of 230 Spring Creek coalminers, protesters are planning to picket the Solid Energy head office in Christchurch.
About 1000 people marched through Greymouth on Tuesday to protest against the suspension of the mine, which injects $37 million a year into the Greymouth economy.
Grey District Mayor Tony Kokshoorn said yesterday that the Engineering, Printing and Manufacturing Union was looking to take a busload of miners to picket the corporate office.
Mr Kokshoorn said he would lead the charge should the protest reach Canterbury.
He said opposition to the mooted mothballing of Spring Creek was mounting.
"Things are really ramping up. The community is heeding the call and we have got a great response from the unions and members of Parliament ... .
We have a small window of opportunity to convince the Government and Solid Energy that the mine must be kept open."
He had already arranged meetings with State-Owned Enterprises Minister Tony Ryall and Economic Development Minister Stephen Joyce, and was trying to get one-on-one meetings with Solid Energy chief executive Don Elder and Prime Minister John Key.
Mr Kokshoorn said it was "criminal" that Solid Energy was keeping the miners and their families in suspense.
"They're heartless. They have already laid off the staff at Huntly and elsewhere, but only suspended the men from Spring Creek," he said.
"To put these miners and their families through all this stress now, and then to just turn around and tell them in a couple of weeks that their jobs are gone, is just callous, gutless and a kick in the guts.
"I personally will hold Solid Energy's board, and the politicians who own the mine, responsible if that is the outcome."
- Greymouth Star