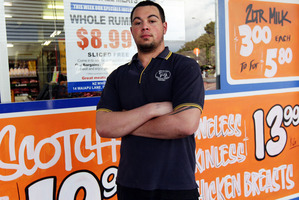 When lotto jackpots, the haircuts and prime cuts have to wait - until next week.
Retailers report a drop in business every time there is a big money prize for Lotto.
They say people spend their money on a ticket and steer clear of the stores. If they are right, this week should be quiet. Big Wednesday has jackpotted for the 24rd week, this time to $23 million.
The prize includes Lamborghini and Audi luxury cars, a Rayglass boat, $675,000 cash toward a bach, a credit card loaded with $50,000 and $50,000 of luxury travel. The jackpot is the second-largest prize for Big Wednesday and the sixth-largest prize in Lotto history.
Laurel Hall owns The Corner Barber Shop in Birkenhead and has a notebook with the dates of the Lotto jackpots - and the corresponding dips in her business.
"I have marked them in our books and, when the Lotto winnings are high, we are down," Laurel said.
"When they are really high we have a 30 per cent drop in business."
Laurel and the two other hairdressers said people budgeted to spend their extra money on a Lotto ticket instead of a haircut.
The same goes for prime cuts of meat. Shane Standing owns Wholesale Meats in Onehunga and knows his customers buy sausages rather than steak when Lotto jackpots.
"When it gets to $20 million, we notice people buy cheaper cuts of meat," Standing said.
"They go from steak cuts to mince and sausages - they buy things that go a bit further."
Standing said foot traffic around the shop was noticeably lower in jackpot weeks.
"It definitely draws a bit out of the economy - everyone dreams of that big win."
Another business owner next door to a Lotto outlet said the difference was significant.
"You can ask anyone and they will tell you.
"No one has any money on those weeks because they buy their ticket."