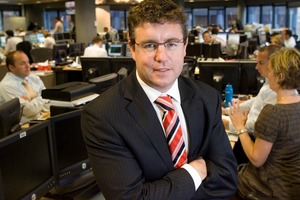 Most of New Zealand's NZX-listed corporates came through the 2011-12 reporting season in good shape, with many delivering better-than-expected annual earnings and only a few descending into the red.
Of the 33 annual results for NZX listed companies with June 30 balance dates, 21 reported gains in their annual net profit, eight reported declines and four reported losses.
Most results were slightly better than market expectations.
There were 14 double-digit percentage increases in net profit and three triple digit percentage increases.
The season also featured big turnarounds for those companies with previously mixed track records, such as rural services group PGG Wrightson's return to profitability.
The solid improvement in earnings contrasted with business confidence surveys, which continue to indicate a subdued economic environment.
In the latest survey from ANZ National Bank, chief economist Cameron Bagrie said the economy still appeared to be flat-lining, but the string of company results tells a different story.
"You can get really negative quite easily when you think about the economic backdrop, but when you actually drill down to the different companies, some of them are actually doing very, very well," Mark Lister, head of private wealth research at Craigs Investment Partners said.
Mint Asset Management portfolio manager Shane Solly said there was a "sigh of relief" that the reporting season had gone off without a hitch.
"In general, we have not had any major melt-downs ," Solly said.
"There was some anxiety that the weak economy would flow through, but companies on the whole have managed the last year reasonably well."
As expected, companies in the construction and construction-related sector suffered the effects of a cyclical downturn. This included Fletcher Building, Steel and Tube and Cavalier, which all recorded double digit falls in net profits.
But analysts said there were a number of standout performances on the positive side. Among them were Freightways, which reported a 24 per cent increase in net profit to $37 million and Skellerup, whose earnings rose by 22.1 per cent to $24.7 million.
Other strong performances came from Port of Tauranga, up 26 per cent to a record $71 million and Auckland International Airport, up 41.2 per cent at $142.2 million.
The stream of mostly steady earnings outcomes was supportive of the sharemarket, which has gained about 13 per cent on the benchmark NZX-50 index so far this year.
Craigs Investment Partners' Lister said NZX's decline in first-half earnings and a flat annual profit from Sky Network TV were the main disappointments for the season.
Earnings from the state-owned enterprises on the Government's privatisation list were a mixed bag.
North Island hydro and geothermal generator Mighty River Power - number one on the list - reported steady underlying earnings of $163 million.
Meridian Energy - the biggest generator - reported a 52 per cent fall in its net profit to $106.1 million and Genesis Energy said it was set to go as an initial public offer (IPO) after returning to profitability in the June year.
Asset writedowns took state-owned coal producer Solid Energy into a $40.2 million net loss for 2011-12 compared with a profit of $87.2 million in the previous year.
- APNZ