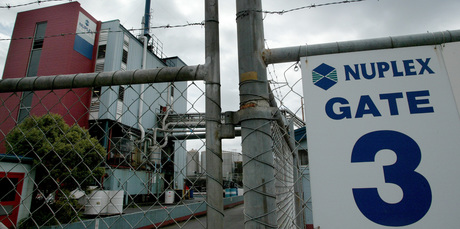 New Zealand shares rose yesterday, led by Air New Zealand, after its full-year profit beat estimates and the airline forecast earnings to double in 2013. Auckland Airport fell after its annual profit climbed 15 per cent.
The NZX 50 index rose 1.17 points, or 0.03 per cent, to 3629.56. Within the index, 22 shares rose, 20 fell and eight were unchanged.
Air New Zealand shares rose 13.4 per cent to $1.01, the highest since November 23. The national carrier slated for a Government selldown beat estimates with a 12 per cent drop in annual profit to $71 million. That beat the consensus analyst forecast of $44.5 million.
"Air New Zealand has come through, and has been working on this for a long time - it hasn't just happened overnight," said Shane Solly, portfolio manager at Mint Asset Management. "The result was better than expected and they gave guidance of a new outlook that caught people by surprise."
Nuplex Industries rose 5.4 per cent to $2.95. The stock is up about 24 per cent this year. Last week the specialty chemical maker met its guidance, after the contribution from newly acquired Viverso and improved resin margins made up for falling volumes and the impact of a high New Zealand dollar.
Ryman Healthcare, the retirement village operator, rose 2.7 per cent to an all-time-high of $3.82. The stock has gained about 34 per cent this year.
Auckland International Airport fell 1 per cent to $2.58. The airport is raising its dividend policy to pay out 100 per cent of underlying earnings, up from 90 per cent, following a 15 per cent increase in tax-paid underlying profit of $139 million in the year to June 30.
"The revenue was slightly below forecast and the profit was in line - it hasn't surprised the market so investors haven't reacted," said Bryon Burke, head dealer at Craigs Investment Partners.
"Stocks that have been in line with forecasts haven't been treated that harshly."
Telecom fell 0.8 per cent to $2.41. Fletcher Building shed 0.3 per cent to $6.60.
The decline was led by Goodman Fielder, the food ingredients maker, down 3 per cent to 64c.
Allied Farmers, the group that bought the loan books of Hanover Finance and United Finance, was unchanged on 2.5c.
It narrowed its full-year loss to $14.1 million from $40.98 million.
New Image Group, which makes colostrum-based health tonics, was unchanged on 15c.
The company reported a full-year loss of $6.1 million in the 12 months ended June 30 after taking one-time charges to write down its Living Nature and Sleep Time brands.