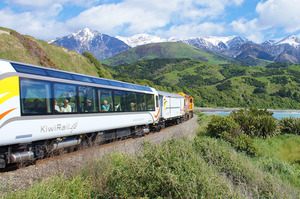 Labour MP Phil Twyford has come upon a document within KiwiRail that gives cause for concern about the rail network's maintenance. It suggests that despite $750 million National has put into KiwiRail as part of a $4.6 billion "turnaround plan", the asset will decline after 2014 and that the following year track renewal will be halved.
Projects on the main line will be cancelled or deferred, the condition of sleepers will deteriorate and less will be spent on timber bridge maintenance, among other things.
At least this time Labour did not raise the spectre of privatisation, as it did when KiwiRail's value was drastically written down at the end of June, and again last month when the company announced the first job cuts. The railway is unlikely to be sold again as it is now constituted - with trains and tracks in the same entity.
Its period in private ownership proved fairly conclusively the railway is not an economic proposition.
Two private operators were unable to make it pay for the estimated value of the network. TranzRail was accused of running down the asset before it sold the operation to the Toll Group, which was unable to pay the access charge required when the Labour Government re-nationalised the land and tracks.
Under Labour, the whole operation was valued at $10.6 billion, which might reflect its replacement cost but not its ability to earn a return. Under National its value has been written down to no more than $1.3 billion, on which it will be expected to show a normal commercial return. Both figures are important to answering the basic economic question: is it still worth our while to maintain a railway?
Or to put it another way, if we did not have this railway, would we build it? Its performance in the post-war era would say no. Its passenger services, and even its freight, have declined in competition with sealed roads, cars and trucks, especially since restrictions on long-haul road freight were lifted 30 years ago. Don't even mention how cheap air travel has become. Frequent capital injections from the taxpayer over the years have not made much difference and it seems the $750 million over the past three years will not bring the turnaround.
Yet no government can contemplate closing it down, for two reasons: once lost it would never be replaced, and the Greens might be right. Oil prices, climate change, who knows what else, could make future generations glad to have it.
But for now, it has to be made more economic. It has a role to play in bulk freight haulage to ports from mills and mines and inland container bases. The main trunk between Auckland and Christchurch, including inter-island ferries, might pay its way. Commuter services in Auckland and Wellington should be run at a reasonable ratepayer subsidy. Other than that, pipedreams like an Auckland-Hamilton commuter service are just that.
KiwiRail's $1.3 billion valuation, which excludes its land, is a fair basis for comparing its return with road and sea competitors, and deciding the level of investment it should receive.
Just two years into KiwiRail's 10-year turnaround plan it may be too soon to write it off, as State-owned Enterprises Minister Tony Ryall did in Parliament recently. The company has to find $3.85 billion by reducing costs and retaining earnings. Staff cuts and outsourcing of maintenance have already brought an outcry from staff unions.
The report that Labour brought to Parliament this week is another sign that something is happening. Its bleak forecasts on maintenance may be the worst imagined rather than the most likely. But it is important that rail continues to be assessed in economic terms and not romantic ones.
It cannot run on nostalgia. Losses must never be excused as "social investment". It is a costly method of transport and it needs to be driven hard.