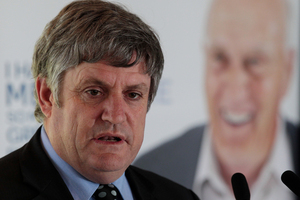 A $99.8 million property value cut produced a big bottom-line loss for newly expanded listed retirement village operator Metlifecare after a new firm of valuers took a more pessimistic view of its assets.
Alan Edwards, managing director and chief executive, brushed this off and cited better cash generation to illustrate how performance had improved, saying investors already expected the paper loss.
"The potential change in asset value was clearly signalled to the market in June and therefore should come as no surprise," he said of the valuation change to 24 villages.
Metlifecare's investment real estate, valued at $1.2 billion last year, fell to $1.1 billion this year.
"The loss is a no-cash writedown of assets following the annual valuation conducted by CBRE. The focus should be on the big improvements in cash generation, uplift in sales and resales volume which support the improved cash flows," he said.
"We changed from Darroch, who performed the valuation in June 2011, to CBRE who concluded the current valuation," he said.
"As announced to the market, CBRE held a different view on metrics like discount rates and future property price growth - a more conservative view - resulting in a writedown," he said.
Revenue fell from last year's $65.1 million to $64.1 million but net operating cash flow rose from $23 million to $31 million, exceeding company guidance of $26.5 million.
Resales rose from $267 million to $294 million, sales rose from $29 million to $36 million and occupancy climbed from 91 per cent to 93 per cent.
Craig Tyson, OnePath equity investment manager, said the result was a little better than expected, particularly the sale of more units in Takapuna village The Poynton on Auckland's North Shore.
Metlifecare merged with Vision Senior Living and Private Life Care but Tyson noted the financial results did not include these two as the deal was done after the balance date.
Metlifecare issued an outlook, saying it expected to extract synergies and efficiencies as Vision and Private were integrated.
Shares closed up 6c yesterday at $2.61.