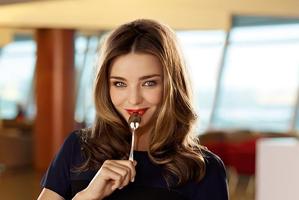 Qantas is hoping supermodel Miranda Kerr will help fight off hot competition from Virgin Australia in the corporate travel market.
The Australian-born model was appointed a Qantas "ambassador" earlier this year and has been announced as the face of a push of the airline's premium lounges and other priority services at airports.
The airline has had a traditional stranglehold on the corporate market - it still claims 84 per cent - but has this year come under sustained attack from Virgin Australia which has upgraded its lounges and introduced business class services on domestic routes.
Virgin, almost 20 per cent owned by Air New Zealand, has introduced lie-flat beds on some of its Melbourne-Sydney flights and across the country to Perth.
Qantas said Kerr was a "nice fit" for its campaign launching later this month.
The Qantas Club campaign is aimed at retaining current members and attracting new ones.
Other ambassadors include John Travolta, Cathy Freeman, Mark Webber, Greg Norman and John Eales.