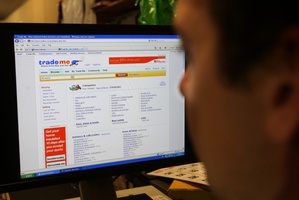 Trade Me's share price fell despite the newly listed online trading platform reporting an annual net profit and dividend that were well ahead of its prospectus forecasts.
The company, which is majority-owned by Australian media group Fairfax, said its first annual net profit as a listed entity came in at $75.6 million, up 10 per cent on its prospectus forecast.
Trade Me announced a 7.8c per share dividend, up 15 per cent on its prospectus forecast.
Total revenue came to $142.45 million, up 13.8 per cent compared with the previous year, but down from its prospectus forecast of $144.8 million.
Adjusting for technical accounting changes, revenue would have improved by about $1 million over the company's prospectus forecasts.
Even so, Matt Goodson, portfolio manager at BT Funds Management, said Trade Me's revenue numbers were disappointing.
"What you are looking for in a high-growth, high-valuation-multiple company like this is for the revenue line in particular to beat expectations and for that to leverage down to the profit line, whereas they have really made their numbers here by keeping a tight hold on costs," Goodson said.
"Looking through all the accounting noise, on a like-for-like basis, the numbers were only in line with forecasts," he said.
The net profit included a $3.3 million gain from its purchase of AutoBase, a company that aggregates listings from car, truck and boat deals, which are then displayed on Trade Me.
Trade Me started with a 25 per cent stake in AutoBase, then went to full control in May. The gain came from upward revaluation of Trade Me's original stake.
Shares in Trade Me, which were issued last year at $2.70, have had a sharp run up since $3.55 in July. They slid by 15c to $3.82 in the aftermath of the result. Later in the day, the stock regained ground to close at $3.87, down 10c.
The company's earnings before interest, tax, depreciation and amortisation for the 2011-12 year to June were $110.4 million, up 11 per cent on the previous year and up 5 per cent on its forecast.
Trade Me said it remained committed to delivering on the final part of its initial public offer (IPO) forecast over the six months to December 31, which was for a net profit of $34.8 million.
Chairman David Kirk said Trade Me had made a smooth transition from being a part of the Fairfax media group to life as a separate entity.
"We've delivered on the numbers set out in the IPO documents back in December and turned in another year of record profit," Kirk said.
Trade Me chief executive Jon Macdonald said there had been varied levels of strength across the company's portfolio, but no big surprises.
"In the short term, we believe the New Zealand economy remains fragile, but we are starting to see some activity out of the Christchurch rebuild, as well as better support in the Auckland property market," he said.
The classifieds businesses - Trade Me Motors, Trade Me Property, and Trade Me Jobs - all delivered a strong annual performance.
- APNZ