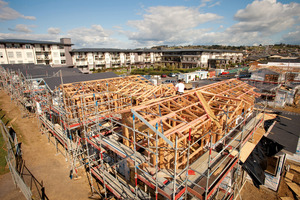 Big increases in sales of retirement village occupation rights saw listed specialist company Summerset Group turn last year's $1.2 million loss into a $3.9 million profit.
The business is on target to exceed its initial public offer net annual profit forecasts of $9.7 million, after listing on the NZX last November.
Norah Barlow, managing director and chief executive, said total sales rose 73 per cent. Sales, a strengthening of the company's in-house development and design capabilities, and higher development margins were behind the results, she said.
"We are expecting to exceed IPO forecasts if trading momentum continues," Barlow said.
Summerset completed 68 new units on four sites in the half-year and its full-year target was 155 units.
"We have started building at our newest village in Dunedin and are in a good position to reach our full-year target," Barlow said. "Our purchase of a waterfront site in Hobsonville, Auckland has been a particular highlight over the previous six months.
Summerset expects to pay its first dividend following its full-year 2012 result.
Summerset's IPO, which at the time was the biggest in New Zealand for more than two years, raised $123.6 million.
The company is 56 per cent owned by Australian private equity partnership, Quadrant, which divested 41 per cent of its holding through the IPO.
The shares, which were issued at $1.40, closed down 8c yesterday at $1.87.
- Additional reporting: APNZ