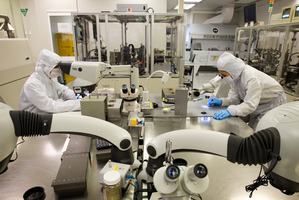 Shares in components maker Rakon rallied sharply yesterday after the company revealed a new technology partnership with Chinese telecommunications giant Huawei.
The Mt Wellington-based manufacturer of frequency control products used in telco infrastructure, smartphones and GPS devices says the deal could quadruple its sales to Huawei over the next five years to US$56 million ($69 million).
Shares in Rakon, which signed a "letter of intent" with the Chinese firm at an event in Wellington yesterday, initially surged by more than 20 per cent on the news, before closing up 19 per cent at 50c last night.
Rakon managing director Brent Robinson said the partnership was a "significant opportunity" for the company.
"We've been working to build Huawei up to one of our major customers for a number of years."
Robinson said Rakon currently supplied the Shenzen-based company with components used in telecommunications infrastructure.
Its products were being "designed into" Huawei's smartphones and devices containing the New Zealand firm's components should be on the market within the next six months, he said.
Privately owned Huawei is a growing force in smartphone manufacturing and expects to triple its phone sales to 60 million units this year, according to Bloomberg.
The company reported half-year revenue of US$16 billion last month, surpassing Sweden's Ericsson as the world's biggest supplier of telecommunications equipment.
In New Zealand, Huawei secured contracts last year with Chorus to supply equipment for the Government's rural broadband initiative and its technology is the cornerstone of 2degrees' mobile infrastructure and Vodafone's fixed-line network.
Robinson credited Trade Minister Tim Groser and New Zealand Trade & Enterprise, the Government's export development agency, for helping to facilitate the deal, and said a trade mission to China last year was a catalyst for the company's enhanced relationship with Huawei.
The opening of Rakon's Chinese plant, commissioned last year, had also helped cement the partnership, he said.
A Huawei spokesman said the partnership with Rakon was "significant".
"Huawei's supply chain is truly global, with only the most impressive and competitive suppliers selected," the spokesman said. "Rakon's success is testament to New Zealand's ability to produce world-leading products and innovations."
Huawei has aroused suspicion within some governments and security experts over its alleged links with China's Government and military. They fear its networks could be accessed by Chinese spies or contain "kill switches" that would allow them to be shut down during a conflict, the Economist reported this month.
Robinson said he believed the suspicions directed at Huawei were based on rumours, rather than any hard evidence.
Rakon, which fell out of the NZX 50 index earlier this year, has been affected by tepid global demand for its products and a strong New Zealand dollar.
The company reported a full-year net loss of $400,000 in May, down from an $8.5 million net profit in the previous year.