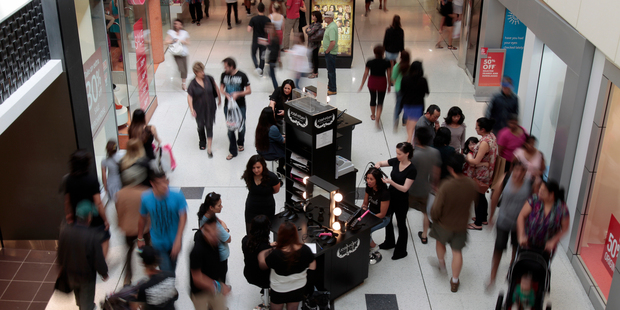 Specialty retail sales figures in Australasia's biggest mall chain are better in New Zealand than Australia.
Westfield's June half-year result showed this category of sales grew 1.1 per cent in New Zealand, ahead of Australia's 0.8 per cent growth.
Shane Solly of Auckland-based institutional investor Mint Asset Management, said that was a good sign.
"Westfield have done a very good job in New Zealand," Solly said.
"Their assets continue to be good performers and they're good managers. St Lukes is their star performer."
The Christchurch earthquakes did not even damage the value of the biggest New Zealand mall, Riccarton, up $15 million, along with St Lukes - about to double in size - and Newmarket.
Westfield's 11 New Zealand malls are valued at $2.8 billion, down on December's $2.9 billion when it had 12 malls.
In June, Westfield sold its Takapuna Shore City to Aviva Investors Asia Pacific Property Fund for $83.5 million.
Westfield leases space for 1636 shops here, which make total New Zealand annual sales of $2.2 billion.
The Westfield trust, which owns a half share of the assets here with Westfield Group, this week announced net profit after tax of A$416.9 million, up 13 per cent, a portfolio 99.5 per cent leased, with retail sales of over A$22 billion in the June year.
Globally, Westfield said its strategy was to invest in world-class retail centres in big cities.
Steven Lowy, co-chief executive and a son of co-founder Frank Lowy, cited Westfield's Stratford City shopping centre, gateway to the London Olympic site.
"In total, approximately 5.5 million visits were made to our centre in just over two weeks, giving the group an unprecedented exposure to a global audience," Lowy said.
Westfield has projects worth about A$1.5 billion under construction, including its shopping centre at New York's World Trade Centre and plans to begin work on projects worth A$500 million in the second half of its financial year.
New Zealand accounts for 8 per cent of the trust's asset value, 11 per cent of gross lettable area and 11 per cent of operating income, ahead of the Australian Capital Territory, South Australia and Western Australia but well below New South Wales with the most valuable assets, biggest profits and most mall floorspace.
Westfield's New Zealand malls are Australasia's third most profitable, behind New South Wales and Victoria/Queensland, fourth in terms of gross lettable area and fourth for asset value.
The trust and group own 52 malls in New Zealand and in Australia worth more than A$13.5 billion..