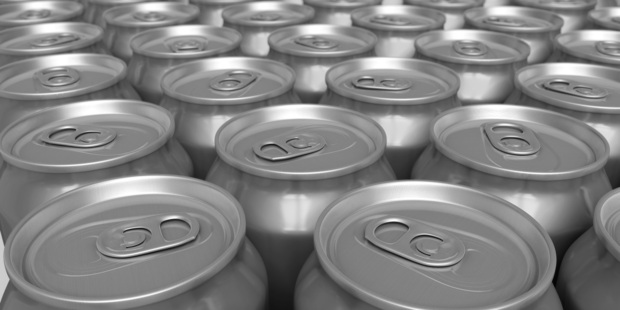 World prices for aluminium have fallen 30 per cent from their most recent peak in April last year, as part of a general retreat in commodity prices. Photo / Thinkstock
When a couple have been married for 40 years it can be hard to believe their marriage is in trouble.
For 40 years the Manapouri power scheme and the Tiwai Point aluminium smelter - each built for the other - have constituted a machine for turning Fiordland rain into export dollars.
Lots of dollars. In the year to June 2012, aluminium exports were worth $1.14 billion.
But that was down 9.3 per cent on the year before, and there's the rub.
The aluminium industry is in a slump and last week Meridian Energy, which owns Manapouri, revealed that Rio Tinto which, for now, owns 79 per cent of Tiwai, wants to reopen the smelter contract due to commence in the new year and run to 2030.
Apart from unsettling the smelter's workforce and electricity industry - Tiwai consumes around 14 per cent of the country's power - this puts the Government in an invidious position.
If Meridian agrees to change the contract in Rio Tinto's favour it is liable to be seen, whatever the company may say to the contrary, as a political decision by the state-owned enterprise's shareholding ministers.
A decision that capitulates to pressure from a big multinational only concerned to maximise the price it gets when it sells out of New Zealand.
And one that the Government has accepted only because it has sunk so much of its political capital into the sell-down of the SOE generator/retailers.
Alternatively, if Meridian folds its arms and says, "Sorry, a deal is a deal - it was a fair deal in 2007 and it is fair now," it might be underestimating how precarious its main customer's position is and risking a seismic shock to the electricity sector, not to mention Invercargill, if it closed.
Either way, the issue will take some time to resolve, casting in the meantime a shadow over the sector and the float of Mighty River Power in particular.
And the secrecy surrounding the contract illustrates how difficult it will be for the market to value Meridian when it floats.
So is this a case of hard-ball opportunism by Rio Tinto or is the smelter really in trouble?
Unfortunately a lot of the information one would need to arrive at a conclusion on that is simply not in the public domain.
We do know some things, however.
The new contract between the smelter and Meridian took three years to negotiate and was concluded in 2007.
Its terms are a deep, dark commercial secret, but we know that it involves some sharing of the metal price risk.
The price the smelter will pay for its power is a function of a multi-year average of electricity prices, of inflation more broadly, and of world aluminium prices.
Indeed, whether the hedging Meridian already has in place to offset the metal price risk is in or out of the money when marked to market has a material impact on its reported earnings.
Meridian has said that the agreed base price under the new agreement is "significantly higher" than under the current electricity supply contract.
But higher than what?
If the Ministry of Economic Development's energy data file can be relied on, in the year to March 2011 (the most recent figure available) the smelter paid 5c a kilowatt hour for its power.
That was less than a third of the average price for industrial users - an average heavily diluted by the smelter itself - and of course less that a quarter of the price residential consumers paid.
Underpinning these low prices is the inherent efficiency of the Manapouri scheme.
Much of the rain that falls on Fiordland, and it rains a lot down there, flows first into Lake Te Anau and then into Lake Manapouri, 230m above sea level.
It used to then pour down the Waiau river to Foveaux Strait. The river is now dammed and all that water instead drops to sea level, at Deep Cove, in one go, passing through turbines in the middle of a mountain.
While it is remote, the costs of upgrading the national grid to make Manapouri's power available to the rest of the country would not be prohibitive. It is, in short, in no danger of being a stranded asset, were the smelter to close.
And as the cheapest power available it would be dispatched.
The tricky part to calculate is which, and whose, other generation assets would be crowded out and what the impact on wholesale electricity prices would be.
Speculating about that is premature, however. There have been no overt threats of closure, Meridian chief executive Mark Binns assured us on Monday. But he also acknowledged that the aluminium industry is "having a difficult time".
World prices for aluminium have fallen 30 per cent from their most recent peak in April last year, as part of a general retreat in commodity prices.
Unfortunately neither the New Zealand nor Australian dollars have fallen to compensate.
In New Zealand dollars, aluminium prices are at a millennial low - in nominal terms.
Rio Tinto in its half-year result released last week reported a loss of US$227 million at the net earnings level for the Pacific Aluminium portfolio of assets it has earmarked for a trade sale or float.
In addition to its stake in Tiwai, Pacific Aluminium includes the Gove bauxite mine and alumina refinery, Boyne Smelters and the associated Gladstone power station, and smelters at Bell Bay and Tomago.
The Australian reported Rio Tinto chief executive Tom Albanese as saying that the Pacific Aluminium asset "probably most in the position of losing cash in the current market would be the Gove refinery".
The group's aluminium smelters were "basically holding their own even in the current environment" but "some are quite stressed and in some cases have been reducing capacity".
China, where economic growth has slowed, is not only a major source of demand but has greatly expanded its own smelting capacity and is home to the swing or marginal producers.
The Financial Times reports that the Chinese Government has stepped in to support aluminium producers by cutting electricity tariffs in a number of provinces.
Industry insiders see Tiwai as uncomfortably close to the wrong end of the international cost curve.
All of which suggest that it has been appropriate for Meridian not to have given Rio a swift and terse response ending in "off".
Stepping back from the cyclical gloom, however, Tiwai has some things going for it. It produces high-purity aluminium, which commands a premium in some markets.
And it produces it from the power of falling water rather than the combustion of coal or natural gas, which ought to be an advantage as the world confronts climate change.
But as someone said, between "ought" and "is" lies the greatest chasm in the world.