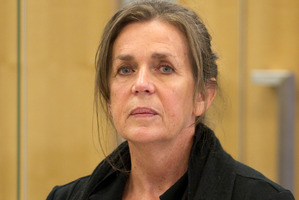 Financial adviser Jacqui Bradley - accused of swindling 28 clients of about $15 million - blamed the bank when payments to investors were delayed, a Crown witness said.
Bradley is on trial in the Auckland District Court and has pleaded not guilty to 75 Crimes Act charges, including 58 of theft by a person in a special relationship.
The Crown alleges Bradley was "robbing Peter to pay Paul" in a Ponzi-style operation at her business, B'On Financial Services.
The accused's husband, Mike Bradley, was also facing charges but he died last year at age 63, weeks before the trial was originally due to start.
One investor, Ian Calderwood, told the court yesterday he invested $250,000 with the Bradleys in 2005.
Calderwood said that when he tried to withdraw his money in mid-2008, there were numerous delays.
In letters or emails from the accused, Calderwood was told the wait was due to "bank procedure being slow" as a result of the global financial crisis.
"In essence she's blaming the bank?" asked Crown lawyer Katie Bannister.
"Correct," Calderwood replied.
The witness said it was not until May 2009 - almost a year later - that he was advised he would be paid out in full. He was told the balance of his account was over $1 million, he said.
Dogged with further delays, Bradley then blamed the situation on a prolonged Japanese bank holiday, the witness said.
"These bank guys are something else," Bradley said in written correspondence.
Calderwood said he eventually received slightly over $500,000.
Bradley's lawyer, Ron Mansfield, asked about the meetings Calderwood had with B'On and whether it would be fair to say that Mike Bradley was the one dealing with the investment and management of the funds.
"It would," Calderwood replied.
However, the Crown's next witness, Jocelyn Calderwood, said it was Jacqui Bradley who gave her financial advice and that she only dealt with Mike very occasionally.
Calderwood said she also ran into trouble when trying to get her money back from B'On.
She said she got back only $400,000 of an investment worth around $600,000.