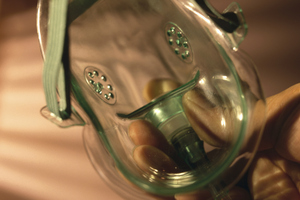 An Auckland company has been ordered to pay close to $100,000 after a worker lost consciousness in a hazardous oxygen-deprived coolstore while using an inadequate respirator.
Auckland Pack and Cool Ltd was sentenced in Manukau District Court yesterday on a charge of failing to take all practicable steps to ensure the safety of its employee.
The court heard the worker at the Papakura coolstore was hospitalised after he lost consciousness from a lack of oxygen while retrieving kiwifruit samples last July.
The man and a colleague had been using respirators while they worked in the temperature-controlled environment, which contained two per cent oxygen (about one tenth of the oxygen level in outside air) and five per cent carbon dioxide (more than 100 times that of outside).
He passed out and fell to the floor after his breathing apparatus malfunctioned.
The man's colleague and a nearby employee were unable to pull him from the coolstore, and he was finally rescued by a company director.
The workers performed CPR until emergency services arrived and revived him.
He was taken by ambulance to hospital, where he spent three days recovering.
An investigation by the Ministry of Business, Innovation and Employment found the man was given inappropriate breathing equipment to carry out work in a hazardous oxygen-deprived environment.
The ministry's northern region health and safety manager, John Howard, said the company did not follow manufacturer's instructions that explicitly stated the respirator should not be used in low-oxygen environments.
"This man is very lucky to be alive,'' Mr Howard said.
"This accident is a timely reminder for all employers to use the right equipment for the job, and ensure all employees are trained to work safely in hazardous environments.
"It is also extremely important to ensure that emergency procedures are effective and well-rehearsed.''
The company was fined $84,625 and ordered to pay $12,250 reparations to the worker.
- APNZ