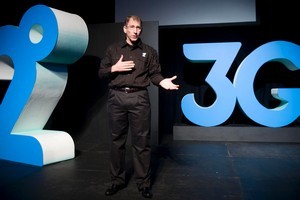 2Degrees chief executive Eric Hertz. Photo / Richard Robinson.
The chief executive of 2degrees, Eric Hertz, says there is plenty of growth left in the New Zealand market, despite the upstart mobile phone company passing the one million customer mark.
Hertz said New Zealand, despite having market penetration of 120 per cent, had not reached saturation for mobile phone devices.
"It's no longer about the number of people in the country," he said. "It's really about the number of connections."
The advent of smartphones and tablets had already changed consumer behaviour significantly, and would continue to do so as the technology became progressively cheaper.
"In the future, cameras and all kinds of devices are going to have connections to the network," he said. "It's not about four million people, it's about, in the next few years, 15 to 20 million connections that people will be seeking."
Vodafone is the biggest player in the mobile phone market, followed by Telecom.
In July, Australia's Telstra said it would sell TelstraClear, its wholly owned New Zealand subsidiary, to Vodafone NZ for $840 million. Vodafone NZ is a subsidiary of giant UK telco Vodafone Plc.
Hertz was relaxed about TelstraClear and Vodafone joining forces, saying there would always be a place for a "value" provider like 2degrees.
The company launched nationwide 2G services to the prepay market in August 2009, acquiring 206,000 customers within six months.
By March 2011 it had grown to over 580,000.
Hertz said the company now served the business market, was one of the approved providers to the Government and operated with 35 stores and more than 700 staff.
The company has invested $450 million in its New Zealand network, which it says has 97 per cent coverage.
Paul Brislen, chief executive of the Telecommunications Users' Association of NZ, said passing the one million customer mark made 2degrees one of the fastest-growing third entrant telcos anywhere in the world.
"They have done extremely well in achieving a million customers in that space of time," he said "The question will have to be: at what price have they got them?"
The telco had about 20 per cent market share but about 10 per cent of the revenue, he estimated.
"So that has got to be a concern to the managers and the shareholders alike, because you can't keep going at that rate - you have to start winning some of the more expensive customers as well."
- APNZ