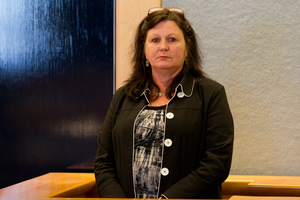 A jury considering the case of National Finance's Carol Anne Braithwaite deliberated all of yesterday without reaching a verdict.
Braithwaite, 53, faces one charge of making untrue statements in a National Finance 2000 prospectus, which carries a maximum penalty of five years in jail or a fine of $300,000.
She is the first director of a failed finance company to have a case tried by a jury.
Prosecutors argue there are 10 material untruths in the document, an allegation Braithwaite now accepts. She is defending the charge on the basis that she believed the prospectus was correct when she signed it in 2005.
Under the law she is required to prove it was "more likely than not" that she believed the statements were true and that she had reasonable grounds to do so.
The jury asked three questions of the court during their deliberation yesterday, relating to the duties directors have under the law and about determining reasonable grounds for belief.
Braithwaite's lawyer, Quentin Duff, said during the trial that the accused had information kept from her by her defacto husband - National Finance boss Trevor Allan Ludlow and others - before she signed the prospectus.
National Finance went into receivership in 2006, owing investors $21 million. Some investors have recovered 49c in the dollar.