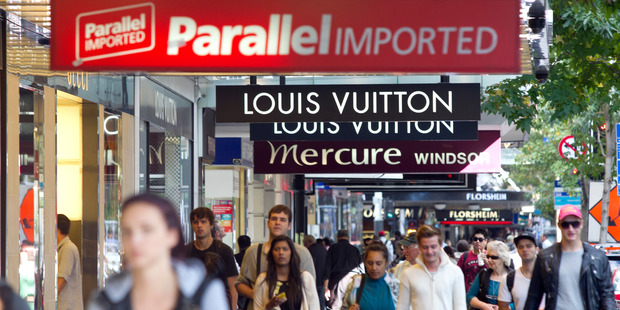 A leading economist has raised fears about the number of new shops being built when retail spending growth is relatively flat.
Stephen Toplis, BNZ's head of research, told the Property Council's national retail conference in Auckland yesterday of annual retail spending growth of 4 per cent compared with 6 per cent annual property growth in the retail and restaurant sectors.
"The cumulative increase in the last 12 months is staggeringly high," Toplis said of the property building boom, which he described as "a little unnerving".
Property and business continuity insurance had risen steeply, further hurting investors, he said.
Prime retail capital values were better in Auckland than Wellington, hit by what Toplis described as a double-whammy of civil service layoffs combined with little population growth.
"All the migration flows are into Auckland, not Wellington," Toplis said.
Ludo Campbell-Reid of Auckland Council listed the world's best shopping centres, including two in Auckland, but questioned transport expansion.
"Trying to solve congestion by building more roads is like trying to solve obesity by loosening our belts," he said.
Auckland CBD's Victoria St was "drab", the Lower Hobson St fly-over was "a nasty piece of infrastructure built temporarily, unnecessary".
The waterfront's Quay St was sometimes deserted in a "city designed for rush-hour traffic and the rest of the time idle, dormant and wasted".
Campbell-Reid showed an image of Auckland Council's Downtown Carpark as a much higher structure, with apartments above and retail below, encouraging people to consider the arrival of a department store like David Jones or Myers there.
Another image showed apartments above one of The Warehouse stores, a concept not yet built but which he wants to see, with cafes, restaurants, a library, community centre and an active edge between the street and building.
"It's about a paradigm shift. Imagine living above where you like to shop," Campbell-Reid said of The Warehouse.
Shoppers were bored and under pressure and 50 to 75 per cent of retail sales in the United States were made after 6pm, yet Campbell-Reid asked how many Auckland or Queen St shops were open then.