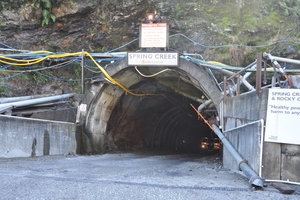 Work at Solid Energy's Spring Creek Mine has been shut down for the second time this year after a miner was hit by falling coal this morning.
The miner, who was seriously injured in the accident, was lucky to escape with his life, as inspectors from the Ministry of Business, Innovation and Employment believe the incident could have been fatal.
The inspectors have also raised concerns about the management of the mine, located near Greymouth, in the wake of this morning's incident.
"The inspectors who went to the mine today are concerned that Solid Energy's management of strata (or seam) stability in the mine is not at an acceptable level,'' said the ministry's High Hazard's unit General Manager Brett Murray.
Mr Murray said he would be speaking with the company's management about the mine, which was forced to shut off its underground operations in February this year after three separate incidents.
The mine, located near Greymouth, employs about 230 miners, tradespeople and professional specialists, with about 40 people working underground at any given time.
Management problems have appeared to plague the mine, which has seen seven different managers in fewer than five years.
- APNZ