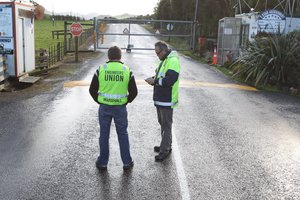 The waihi mine in which 28 men were trapped for up to seven hours yesterday is expected to remain closed for a few days.
Fifteen trapped miners spent hours waiting to be rescued from an underground refuge chamber after a truck's engine burst into flames two hours before the end of their shift at the Newmont Waihi Gold mine yesterday.
The fire in the Trio mine is now out but the mine is expected to be closed for a few more days.
Miner Steve Sant was working underground when the fire happened and spent about five hours in a refuge chamber.
"When the emergency, emergency, emergency sounded I thought it was another drill.''
He realised once he was in the chamber with fellow workers that it was for real.
"It makes you realise drills are worth it.''
This morning staff managed to get close enough to the burnt-out truck to take photos.
Newmont Waihi Gold general manager Glen Grindlay said the front tyres were destroyed but the back four were still inflated and could cause a problem if they exploded from the heat of the fire so they have to keep well away for several more hours.
"Department of Labour has been underground today, looked at the refuge chambers and have been taking statements from workers,'' he said.
Newmont Waihi Gold took a busload of journalists and television cameras onto the mine site, but not underground, today.
- APNZ