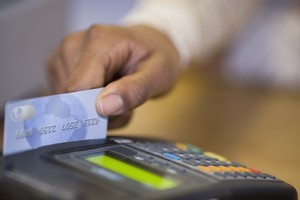 New Zealand's electronic card spending rose last month, with the biggest increases in hospitality and consumables, Statistics New Zealand figures show.
June's card spending increase was concentrated in core retailing, which was up 0.9 per cent from May, said acting industry and labour statistics manager Tehseen Islam.
Core retailing includes hospitality, consumables, durables, and apparel. Hospitality, which includes accommodation, bars, and restaurants, grew 3.1 per cent to $575 million in June.
Consumables spending, including food and liquor retailing, was up 1 per cent to $1,428 million. Hardware, appliances, and pharmacies - classed as durables - rose 0.5 per cent to $936 million.
Apparel spending dropped 0.3 per cent to $282 million.
The largest drop in spending came in fuel, with a 4 per cent slide to $581million, following a 4.4 per cent rise the previous month.
Total retail spending rose 0.4 per cent to $3,918 million in June.
The unadjusted value of transactions in the core retail series was up 5.3 per cent from June 2011.
The increase in spending across a broad range of categories, including consumables, hospitality and durables, suggests a continued recovery in underlying household spending is taking place, said ASB economist Christina Leung.
Increased spending on durables is likely to be underpinned by increased house sales since late 2011, she said.
"Spending on durables tends to increase in line with house sales, as households purchase furniture and appliances to furnish their new homes.
The increase in spending in the hospitality sector is also fairly encouraging, and suggests households are once again starting to eat out."
The fall in spending on fuel was broadly in line with the decline in petrol prices over June, Leung said.