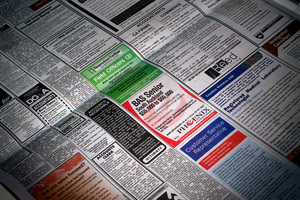 A big lift in retail job advertisements is an encouraging sign for the sector, an industry group says, although trading conditions remain tough for many retailers.
The Trade Me Jobs employment survey, released yesterday, said the number of advertised roles in retailing rose 29 per cent on the website in June compared with the same month a year earlier.
Retail, hard-hit by the global financial crisis and its ongoing aftermath, was showing the third-fastest growth in job listings behind agriculture and construction, which has been boosted by the rebuilding of Christchurch.
The number of job listings rose 8.2 per cent overall on Trade Me last month.
Head of Trade Me Jobs Pete Ashby said advertisements for store manager positions were the biggest driver of the growth in retail listings, lifting 119 per cent last month, while listings for retail assistants increased 13.8 per cent.
The strongest growth in retail vacancies took place in Christchurch - where they rose 38 per cent in June, ahead of Auckland, where they grew 37 per cent. Retail job listings increased 15 per cent in Wellington.
New Zealand Retailers Association spokesman Russell Sinclair said the growth in advertised roles was "very encouraging" and showed businesses were becoming confident enough to increase staff numbers to the kind of levels they were at a few years ago.
"Through the hard times they've let staff go and haven't replaced them and to some extent that's probably impacted on their efficiency and customer service."
But he said trading conditions were still difficult for many retailers, with a lot of pressure on businesses to discount products and increasing online competition.
Figures released by electronic card transactions provider Paymark yesterday also painted an improving picture of the retail sector.
The value of transactions nationwide climbed 5.1 per cent to $3.6 billion last month, compared with June 2011, according to Paymark, which processes roughly 75 per cent of all electronic card transactions in this country.
Canterbury reported the strongest growth in spending, rising 6.8 per cent to $404.1 million last month.
Paymark's Paul Whiston said Canterbury's above-average growth in spending was welcome news.
"We saw a sharp decline in spending following the February earthquake last year, however June's positive result is a heartening sign that the region may be showing signs of a recovery," Whiston said.
"While spending in Canterbury is currently running well above earlier years, it's important to note that spending in the region is perhaps still 5 to 10 per cent behind where it may have been without the earthquakes."
Across New Zealand, non-fuel spending increased for the third consecutive month, excluding seasonal factors.