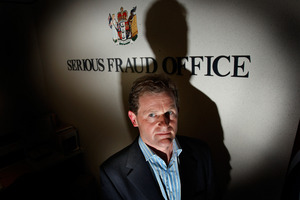 The director of an investment company alleged to have swindled $5 million from family and friends is expected to enter pleas to Serious Fraud Office charges next week.
Evan Cherry, the sole director of Albany-based Investment Solution Limited, is alleged to have stolen investors' funds and made false statements in offer documents.
The 54-year-old, who lost name suppression last month, appeared at the North Shore District Court today where his lawyer Matt Dixon said there would be a meeting with the Serious Fraud Office (SFO) before an expected "resolution".
SFO prosecutor Todd Simmonds told the court the hoped pleas would be entered when Cherry reappears next week.
The SFO alleges at least $5m of the $9m Cherry received from about 175 investors was not invested in accordance with instructions.
He faces charges of theft by a person in a special relationship, theft by misappropriating proceeds and making a false statement by a promoter.
As Cherry left court he was followed by one angry investor, who wanted to be known only as 'Dave'.
Dave alleged he had lost $50,000 he was planning to use to pay off his mortgage and save for retirement.
ISL traded under several names including, ISL Nominated Limited, Trading Strategies Limited, ISL Strategic Investments Limited and ISL Strategic Investments 100 Limited.
The ISL companies were advertised as providing returns or finding solutions that "generally outperform the market".
Last month SFO chief executive Adam Feeley said his office urged the public not to let personal relationships cloud their judgement of investment schemes.
- APNZ