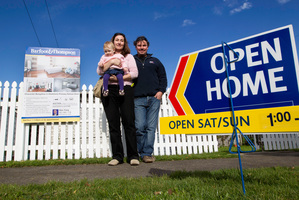 Househunters streaming in and out of two open homes in Mt Albert's Harbutt Ave yesterday were sure the market was not in their favour.
Craig and Sonya Brocklehurst have been househunting for four months in central Auckland and said they were used to heated competition for properties.
"In this area, we've looked seriously at two houses," Mrs Brocklehurst said. "And one of them got $170,000 over the CV. And even the real estate agent was surprised by how much that one went for.
"We went to one [auction] intending to bid. But it just skyrocketed, it just went out of our price range."
The couple, who already own a property, have a budget of between $500,000 to $600,000.
"I'm a builder, so we're looking to find something that's got potential," Mr Brocklehurst said.
"Most of the houses we see, even for the money they're getting, they need, in my eyes, $150,000 plus [of work] to bring them up to spec."
He said if the prices and competition continued they would have little choice but to look for something further out.
"But I think it actually is a bubble right now with the demand so high ... so we're just keeping [a finger] on the pulse."
Looking over the same three-bedroom bungalow were Melanie Hayes and Gordon Otukolo.
The couple, both 29, have been looking for two weeks for their first home and said they had already noted how well-attended open homes were.
Mr Otukolo said they would definitely consider properties in less-central suburbs as they planned to own dogs and so wanted a full section.
"If we have to get half-sections close, we'd probably go for full sections out further."