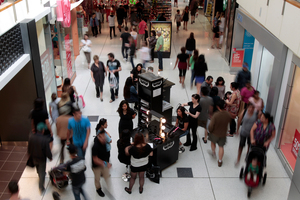 Westfield, New Zealand's biggest mall owner, is not planning to sell any other shopping centres after quitting Takapuna but will vastly expand Newmarket and St Lukes malls.
A notice to the ASX by Westfield Retail Trust said Westfield Shore City was sold.
"The trust and Westfield Group, who each had a 50 per cent interest in Westfield Shore City, have sold the centre to Aviva Investors Asia Pacific Property Fund for a total purchase price of $83.5 million, of which the trust's share is $41.8 million," the notice said.
Investment property experts said Westfield was also trying to sell its Pakuranga and Glenfield malls in Auckland and Chartwell in Hamilton.
But Justin Lynch, Westfield New Zealand director, said expansion work was a focus for the business.
"We have no intention of selling any more. It's business as usual. There is no time frame for St Lukes. We're just going through the processes. We have the rezoning. The next stage will be to work out what resource consents we need for the site. We need to get planning approval for the construction of buildings," he said of plans to double that suburban centre.
Newmarket appears closer to starting, although Lynch will not say where work will begin first.
"We have all the resource consent approvals at Newmarket but there's capital constraints, approval by the board, the right timing and major tenant negotiations," Lynch said.
"We are busy with that but until those, you might say ducks are in a row, we are unable to commence."