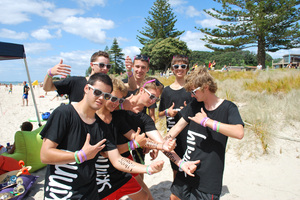 It will take longer than six months for Telecom's youth-focused mobile brand to be successful, says an analyst, as the company announced Skinny boss Paul O'Shannessey had left the job.
Skinny launched in January this year and is an attempt by Telecom to turn around its poor performance in the pre-paid market.
It offers some of the cheapest calling rates in the country and uses Telecom's XT mobile network for its services.
The brand targets the youth market and has a strong social media presence, particularly on Facebook.
But half a year after its launch, O'Shannessey - Skinny's boss and marketing brain - has left the company, Telecom said yesterday.
Telecom programme manager Paul Touhey has stepped into the role temporarily and the company expects to name O'Shannessey's replacement next week.
Telecom retail chief executive Alan Gourdie said O'Shannessey had left to pursue other opportunities.
O'Shannessey could not be contacted yesterday.
While media reports claim there was trouble at Skinny over poor sales Telecom refused yesterday to disclose its sub-brand's customer numbers.
IDC senior telecommunications analyst Glen Saunders said Skinny was "something Telecom needed to try" and the company should not expect overnight success.
"It takes time to pick customers up, it's not something you can do for six months and be successful [in]. It's something you have to do longer-term," he said.
Telecom would need to stick it out with the brand for its investment to be worthwhile, Saunders said.
While Saunders believed launching Skinny "would have been a costly exercise", First NZ Capital's Greg Main said sub-brands were traditionally cheap to set up.
"I wouldn't think it would have been [a huge cost] in the context of Telecom, it would be very small. That's one of the attractions of doing the operation," Main said.
However, Main said, sub-brands like Skinny were "not normally huge drivers of value".
Gourdie said yesterday that he expects information about Skinny's finances would be included with Telecom's full-year results and annual report out in August and September.
As well as social media, Skinny pushed its brand at more than 50 events during the summer.
But one of its marketing attempts at a skateboarding competition in Victoria Park backfired during March after vandalism and allegations of assault.
Skinny has now recently made the shift to more traditional and expensive avenues of advertising such as television and newspapers.