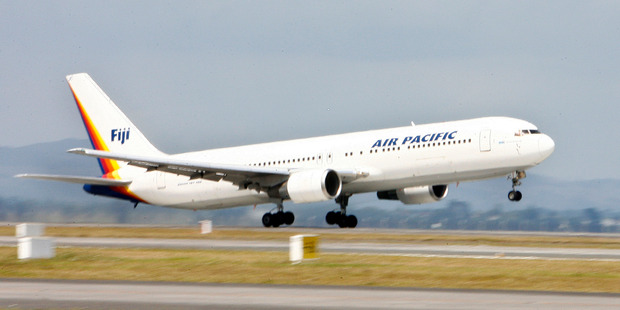 Air Pacific has posted its first profit in three years. Photo / Wayne Drought
Fiji's national airline, Air Pacific has posted its first profit in three years despite a challenging operating environment.
The airline, majority owned by the Fiji government, reported an operating profit of NZ$11.5m for the year to March 31, compared to an operating loss of $2.6m for the previous financial year
The wider group reported an after tax statutory profit of $7.5m.
Air Pacific's chairman managing director and chief executive Dave Pflieger attributed the continuing improvement in the airline's finances to transformation measures underway.
The profit was achieved despite significant fuel cost increases, strong and continued competition in a key market from two low cost carriers, - Virgin Australia and Jetstar - and two big floods.
Air Pacific will re-brand and revert to its former name Fiji Airways, coinciding with the delivery of brand-new Airbus A330-200 aircraft next year.
Australian airline Qantas has a 46 per cent stake in Air Pacific and last month withdrew four of its appointees on the airline's board after a Fiji government decree that it must be controlled by Fiji citizens.
Qantas has been trying to quit its stake for several years but has not yet found the price it wants.