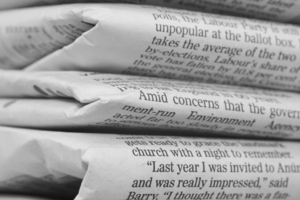 The tremors shaking the Australian media continued yesterday with confirmation of changes at News Ltd that will bring many redundancies.
Chief executive Kim Williams outlined plans that will dramatically shrink the number of east coast operating divisions, draw all metropolitan journalists into single newsrooms, and centralise sales, marketing, finance and administration.
The group has also bid almost A$2 billion ($2.56 billion) for Consolidated Media Holdings with leading shareholder James Packer's blessing, increasing its grip on pay television through a 50 per cent stake in Foxtel and full ownership of Fox Sports.
The deal will require regulatory approval.
The group has also acquired online publisher Australian Independent Business Media, which produces Business Spectator and the Eureka Report.
The moves follow Fairfax Media's announcement of 1900 redundancies, the conversion of the broadsheet Sydney Morning Herald and Melbourne Age into tabloid format, and a new focus on digital markets that will include a paywall for its online news services. Printing facilities at Chullora in Sydney and Tullamarine in Melbourne will be closed.
Although facing similar problems of declining newspaper advertising and readership, and the rise of digital media, News is adopting a less radical strategy that Williams said reflected the group's continued commitment to print.
News Ltd sells about 11 million newspapers a week.
It publishes the national daily the Australian, tabloid dailies in all capital cities except Canberra and Perth - where it publishes the Sunday Times - and more than 100 suburban and community papers.
News also owns online services, magazines and film and TV operations.
Under the plans outlined by Williams yesterday, News will prune its present east coast divisions from 19 to five.
Digital arm News Digital Media will be rolled into the larger company, the magazine and lifestyle division News Life Media.
There will be big changes in the group's newsrooms. Reporters employed on daily, Sunday and community newspapers will be incorporated into "one city, one newsroom" operations, merging news-gathering under seven-day rosters.
Estimates of job losses have reached as high as 1000, but Williams said numbers were not known yet and many of the savings would be achieved through natural attrition.