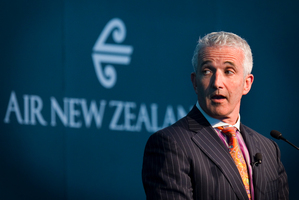 Outgoing Air New Zealand chief executive Rob Fyfe hopes to find a job in New Zealand but it's not likely to be in politics.
Fyfe said he had had approaches from political parties.
"I just don't think I've got the patience for it, to be honest. I'm passionate about making a contribution to New Zealand but I just don't think politics is the pathway for me," he has said.
Speaking yesterday at the announcement of his successor, Christopher Luxon, Fyfe said he had had job offers but was concentrating on Air New Zealand and the process of handing over the reins until his tenure ends at the end of the year.
"As for what happens next year, I'm not too sure. Hopefully I can find something in New Zealand," Fyfe said. "I'm a passionate New Zealander and that's where my heart lies.
"There seem to be a lot of people who have ideas about what I should do next."