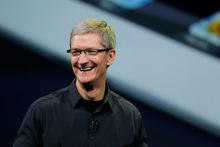 Lion (OS 10.7x) was the first full operating system Apple shipped electronically, via the Mac App Store. Twenty-six million people installed it, which is the best selling release ever for the Californian Inc.
By comparison, Windows 7 took 27 months to get to that level, claims Apple.
Mountain Lion will be available just 10 months later, this July. OS Lion introduced some new features and looked more iPad-like compared to previous desktop systems. It also debuted iCloud, which now has a 125 million registered users. iCloud was sometimes referred to as a backup system and this is misleading: it has only 5GB of space. Even small hard drives these days are 250GB, so as a backup 5GB is useless considering the rule of thumb is that a backup drive should be twice the size of its actuator.
But iCloud does take your contacts/addresses, scheduled events and email and make it available to any device you register to that account, which is very useful, and its presence lets Apple leverage some other features like messaging, which you can already do iPhone to iPhone, for example, if they're both on wireless networks. This bypasses your cellular provider so incurs no cost.
At Apple's WWDC announcement on 10th June, three new iCloud apps were introduced to use the cloud service from Mountain Lion. One is Messages. which will message from Mac to iDevice and back, and the messages can include attachments up to 100MB. If a text arrives on your phone, you can answer it from your Mac.
Document integration also arrives - Pages will be able to 'share' to your Mac from an iPad and vice versa. Numbers and Keynote can also do this, as can Preview and Text Edit, and developers can add support for their apps as it has been added into the Software Developer Kit (SDK).
Clicking the Share button allows you to share quickly online without having to switch to another app. You sign in once to use third-party services like Facebook, Twitter, Flickr and Vimeo. The built-in support for Facebook means you can post photos, links and comments with locations right from your Mac apps. Once you've signed in, your Facebook friends should automatically appear in Contacts complete with their profile photos. Your Facebook notifications will sync with Notification Center (sic) in Mountain Lion, which will also allow you to update your Facebook status from within Notification Center.
You can even use Siri, which will be part of Mountain Lion in a limited way, to dictate tweets that type out for you from recording your voice - this is supposed to work in any application you can type in, even Microsoft Word.
With Siri you can dictate text anywhere you can type, whether you're using an app from Apple or from a third party developer.
Mountain Lion introduces Power Nap, which will keeps a MacBook Pro with Retina display and MacBook Air (second and third generation) up to date while it sleeps. That means it automatically refreshes Mail, Contacts, Calendar, Reminders, Notes, Photo Stream, Find My Mac and Documents in the Cloud. If it's plugged in, it even downloads software updates and backs up your Mac using Time Machine, for those who bring their Mac home from work and just plug it in to power for a recharge.
Gatekeeper, an extension of the File Quarantine feature first introduced in OS 10.5 (Leopard), makes downloading software from the Internet safer by giving you control over which apps can be installed. It's hardly a fully fledged filter: you can choose to install apps from anywhere, or for maximum security set Gatekeeper to only allow apps from the Mac App Store (this is the default setting, which allows you to install apps from developers that have a unique Developer ID from Apple).
Mountain Lion has app sandboxing to keep misbehaving apps from compromising the OS, plus kernel ASLR for improved protection against buffer overflow attacks.
AirPlay Mirroring is a new right-side menu that lets you wirelessly send an up-to-1080p secure stream of what's on your Mac to an HDTV via Apple TV, or to send audio to a receiver or speakers that use AirPlay via an AirPort Express.
Game Center (sic) is like that on iDevices, and integrates that with your Mac. You will be able to play live, multiplayer games with friends whether they're on a Mac, iPhone, iPad or iPod touch.
Mountain Lion's version of Safari has a unified Smart Search Field, iCloud Tabs that present your open tabs across your devices, and a new Tab View to quickly swipe through them, with much more gesture and swipe support for zooming etc. You can post a link into a Tweet or to Facebook directly, presuming you are signed in.
Over 1700 new APIs are being released to give developers access to the latest core OS and web technologies, as well as the newest features of OS X, including Documents in the Cloud, Notifications, Sharing and Game Center.
TidBits, a US Mac info site, has a good and knowledgeable roundup of Mountain Lion's features.
The lesser known (but welcome) features are listed here.
OS X Mountain Lion will be available in July from the Mac App Store for a recommended retail price of NZD$24.99, inc GST. It will require Lion or Snow Leopard (OS X v10.6.8 or later), 2GB of memory and 8GB of available space, so get your Mac up to spec now.
TUAW has an article which should assist.
OS X Server requires Mountain Lion and will be available in July from the Mac App Store, also for NZD$24.99.
Anyone who buys a new Mac from June 12 is on the OS X Mountain Lion Up-to-Date program, which means the upgrade is available at no additional charge via the Mac App Store to all customers who purchase qualifying new Macs from Apple or Apple Authorised Resellers on or after June 12, 2012.

By Mark Webster