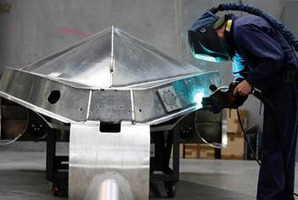 New Zealand's manufacturing sector expanded last month at the fastest clip for the month of May since 2006, led by production and new orders.
The BNZ-BusinessNZ Performance of Services Index rose 7.5 points in seasonally adjusted terms to 55.7 in May from a month earlier. A reading of 50 separates a contraction from an expansion.
All five of the sub-indexes expanded, led by production on 58.8 points and new orders on 57.3 points. Employment experienced a small decrease but remained in expansion on 52.2 points. Deliveries returned to expansion, while finished stocks were little changed on 50.5 points.
"May's strong PMI result confirms a decent rebound from the dip in April and it shows activity has not been dented like general confidence," Doug Steel, economist at Bank of New Zealand said in a statement. "While improvement is far from uniform, there are a few hints of forecast growth drivers starting to appear."
"It is certainly enough to keep our long-held view intact that the manufacturing sector is on a mildly positive trend," he said.
Unadjusted results showed all regions picked up during May. Northland rebounded to its highest level since November 2010 on 58.8 points, while Canterbury picked up on the back of strong sales and building momentum. The Central region remained in contraction despite a pick-up in activity on 44.5 points.
Among the sub-groups, the stand-outs were petroleum, coal, chemical and associated products and machinery and equipment manufacturing both posting results over 60 for the first time in several months.
A pick-up in activity led to the proportion of positive comments increase to 55.1 per cent from 42.1 per cent in April.
"Positive comments continued to mention Australia as a prime export market, while a number could not identify a main influence - rather an overall steady increase in activity from various facets of their business," Steel said.
Globally, the JPMorgan Global Manufacturing PMI stood at 50.6 in May. That's the lowest result in five months.