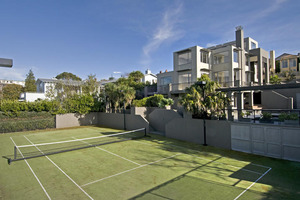 An $8.8 million mansion in one of Auckland's richest suburbs is up for mortgagee sale after the companies that owned it went into liquidation.
The Parnell property is among the latest of a record number of homes forced to be sold. Figures show there are now an average of six mortgagee sales a day.
The house on St Stephens Ave - a stone's throw from the Prime Minister's home - has seven bedrooms, a heated swimming pool, spa, sweeping views of Hobson Bay and an all-weather tennis court.
Former property developer Paul Alexander lived in the house, which was bought in 2006 by companies owned by a friend.
The luxury home was bought for $7.2 million - the fourth highest house sale in 2006 - in a corporate trust arrangement.
It is worth $8.8 million according to a QV evaluation in August last year.
The house was in the name of two companies, St Stephens Investments and Parnell Property Investments, which were then owned by a third company, Aries Holdings.
All three businesses were owned by Mr Alexander's friend and business partner, Stephen Osborn, but Mr Alexander and his wife Julie lived in the mansion.
Early last year the three companies resolved to wind themselves up and appointed liquidators.
Aries had secured creditors owed $10.1 million, according to a liquidator's report last year. It said debt to the BNZ included property law claims of $4.5 million "together with further amounts claimed by the BNZ relating to other cross guarantees which have been subject to dispute".
The bank got possession in April and the property is being offered for mortgagee tender.
Mr Alexander was bankrupt from 1993 to 1997 and again from July 2004 to May 2009.
Neither he nor Mr Osborn could be reached for comment.
The property's listing touts the sale as the "Parnell opportunity of the year" which is located in "arguably Auckland's most admired and sought-after residential avenue".
The 2907sq m land, which stretches from 43 to 47 St Stephens Ave, is in both Auckland Grammar and Epsom Girls Grammar zones.
Figures released last week by land and property information company Terralink International showed about six forced sales a day nationally, or 44 a week. Terralink managing director Mike Donald said it was no longer struggling couples who were hurting but property investors, and he predicted this year could be the worst for foreclosures.
"There has been a large increase in the number of mortgagee sales for individuals, considered to be property investors, who own multiple properties," said Mr Donald.
Terralink recorded 524 mortgagee sales from January to March, at least 100 more than in the same period last year and more than the previous record of 519 mortgagee sales in 2010 at the height of the recession. Mr Donald said the banks were increasingly forcing sales.