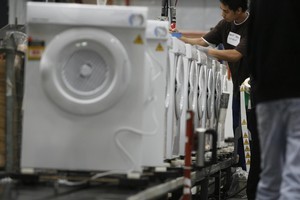 Fisher & Paykel Appliances continues to face tough trading conditions and its long-suffering shareholders were left with only a few morsels of good news to pick over when the East Tamaki-based whiteware maker reported its full-year result last week.
The company managed to beat its earnings guidance and cut its net debt by more than a third, while its finance business once again delivered a strong performance and the board hinted that dividend payments could soon be back on the cards.
But the situation facing F&P's core appliance business is less rosy as retail conditions remain depressed in key markets such as New Zealand and Australia.
Despite that, analysts reckon the firm is well-positioned to benefit from improvements in the global economy and new products hitting stores this year should counter further retail weakness.
"While conditions are still challenging we think the worst is behind [F&P Appliances]," brokers Craigs Investment Partners said in a research note.
In another research note, Forsyth Barr's Andrew Harvey-Green said F&P Appliances should "comfortably outperform" its last financial year's result in the current year.
Group operating revenue dipped to $1.04 billion from $1.12 billion a year earlier in the 12 months to March 31, while normalised net profit fell 12 per cent to $26.3 million.
Harvey-Green, who has a "buy" rating on the stock, said the total earnings before interest and tax (ebit) result of $48.3 million was positive, as it beat company guidance and his own forecast. However, the $10.5 million ebit for its appliances division was "a miserable figure considering the $900 million of revenue received to derive it", he said.
On a more positive note, Harvey-Green said the new products - including fridges, cooktops and dishwashers - F&P Appliances was in the process of launching would benefit the company through the current financial year and into the next.
"If markets stay where they are then you'd expect F&P to pick up market share and raise margins a wee bit as they are able to charge slightly higher prices with the new products out there," he said.
F&P Appliances spokesman Matt Orr said the company had invested heavily in product development over the past two years, with 50 new engineers joining the firm.
"Having a whole lot of new products is a great space to be in," he said.
The company has begun supplying direct drive washing machine motors to its Chinese cornerstone shareholder, Haier, and Forsyth Barr has forecast a total ebit contribution of $7.5 million for the current financial year from the contracts it has with the Qingdao-based home goods maker.
And Harvey-Green said the $25 million in foreign exchange hedging losses that hit F&P Appliances in its last financial year were not expected to be repeated in the current one.
Analysts said risks facing Fisher & Paykel Finance were a deterioration in economic conditions, which would impact consumer demand for credit, and rising bad debts.
F&P Appliances shares, which were worth more than $3 in 2006, closed up 2c at 54c last night.