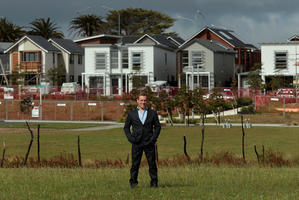 Building work is about to begin on the second stage of the new Hobsonville Point development by a Housing NZ subsidiary.
Rod Chadwick, AV Jennings project director, said group house builders had bought all 85 sites in the second stage.
The land was sold to those companies which will offer a variety of designs and sizes to suit a range of budgets, he said.
AV Jennings had appointed Classic builders from Tauranga to work on the second stage of the project, he said.
That firm puts up about 200 houses a year and joins Universal Homes, Jennian Homes, Jalcon Homes and G.J. Gardner Homes on the site, Chadwick said.
A new primary school will open there in January and a new secondary school in February 2014. A community hall, recreational spaces and reserves are also planned.
Transport has also been planned so that a bus service and ferry will begin operating later this year to connect the housing estate to the city about 30 minutes away, AV Jennings says.
Critics say the broadband provider choice is too restrictive, sections and houses far too small and in many cases the houses take up a good two-thirds of their sites.
But Chadwick said the coastal location and well thought-out infrastructure made the project a success.
"I don't think I'd like to live in such a high-density area," said resident and barrister Lorraine Tai of what she considers a short-term option for her family of three.
Stage two house prices were yet to be announced, Chadwick said.
Four group builders were active on stage one and the prices advertised last October showed Universal was selling the 217sq m house at 1 Station St on a 323sq m site for $705,000 and a 95sq m house on a 209sq m site at 10 Lester St for $395,000.
G.J. Gardiner was offering a 200sq m house on a 275sq m site at 16 Lester St for $635,000. Jalcon Homes was offering 17 Station St, a 216sq m house on a 262sq m site, for $685,000.
Jennian Homes was advertising 16 Toheroa St, a 235sq m house on a 341sq m site, for $750,000 and a house of 104sq m on a 198sq m site for just $389,296.
Tony Houtson of G.J. Gardner said his firm would build 27 houses in the second stage, of which only four would be stand-alone. All the rest would be two-level terraced houses, joined either on side walls or at garages. Sites ranged from 180sq m to 300sq m and floor areas were 160sq m to 260sq m.
"We'll start building in July," Houston said.
HOBSONVILLE POINT
* Stage one: 83 new residences, 58 sold.
* Stage two: 85 new residences, pre-sales on 15, about to start.
Source: AV Jennings