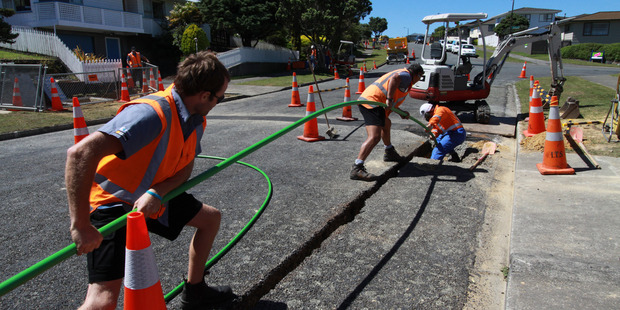 The telecommunications industry has yet to agree on who will pay to connect some homes to ultrafast broadband. Photo / Supplied
More than a year after the Government awarded ultra-fast broadband contracts to infrastructure companies, the industry has still not sorted out who will pay to connect some households to the internet network.
Four private firms - Chorus, Ultrafast Fibre, Northpower and Enable Networks - have joined the Crown to roll out thousands of kilometres of fibre cables across the country.
The lines laid as part of the ultra-fast broadband scheme (UFB) will offer 75 per cent of New Zealanders download speeds of 100Mb a second by the end of 2019.
While the roll-out has begun with some consumers able to sign up for services, the industry has yet to agree who will pay to connect some homes.
Ultrafast Fibre, which is responsible for the roll-out in the central North Island, has agreed to connect all customers at no extra cost.
Northpower in Whangarei and Enable Networks in Christchurch have agreed to fund 30m of underground cabling from the roadside to a residency or a double span of aerial cabling from a power pole to a home.
Both companies said retail providers would be required to contribute to the cost of any additional lines.
However Chorus, who is building the network in Auckland, Rotorua, Nelson, Wellington and a large chunk of the South Island, has agreed to meet the cost of only 15m of underground cabling or a single span of aerial line.
The question of who pays for further cabling if a customer lives down a long driveway or at the back of a subdivided property is still up in the air.
Orcon chief executive Scott Bartlett said internet retailers cannot afford to pay for connection and customers should not have to foot the bill.
"Customers don't want to pay for it and I think that would severely limit uptake on to fibre," Bartlett said.
"I think connecting people up to this network needs to be part and parcel of the plan to build it."
While Chorus has agreed to fund the entire connection cost regardless of the distance to the property for customers who are hooked up between now and December, Bartlett said the interim deal had "kicked the issue down the road".
"The industry needs certainty," he said. "We need to see a viable long-term solution put in place."
Bartlett called on Crown Fibre Holdings (CFH), the organisation responsible for managing the Crown's $1.5 billion investment in UFB and the one who signed the agreement with Chorus, to provide funding for the connection costs.
"They created this problem, they need to fix it," Bartlett said.
In response to questions, including on why it had signed one deal with Chorus and another with Northpower, Ultrafast Fibre and Enable, CFH said: "CFH and the Government are aware of issues associated with non-standard residential UFB installations, and are working with Chorus, the local fibre companies and the industry to address these."
A spokesperson for Chorus said the company had already signed a contract with CFH and that discussions to find a workable solution were ongoing.
Telecommunications User Association chief executive Paul Brislen said the Government promised consumers there would be no connection costs.
"Crown Fibre Holdings contracted four network operators to build the network, they're the one who should be building the network," Brislen said.
"I don't expect the [internet providers] or even worse the homeowners having to pay for the connection to their homes ... but it looks likely that someone is going to have to pay, and Chorus is saying, 'it's not us'."
A draft report from the Commerce Commission released last week said if customers have to bear connection costs, uptake of ultra-fast broadband could be hindered.
THE SCHEME
* The Government's ultra-fast broadband scheme (UFB) will offer 75 per cent of New Zealanders download speeds of 100Mb a second by the end of 2019.
* These speeds are around 20 times the average rate recorded by the Commerce Commission in 2010.
* Schools and hospitals are first in line and are due to be hooked up by 2015.
* The Government is sinking $1.5 billion into the infrastructure project, which was a key plank of its 2008 election campaign.