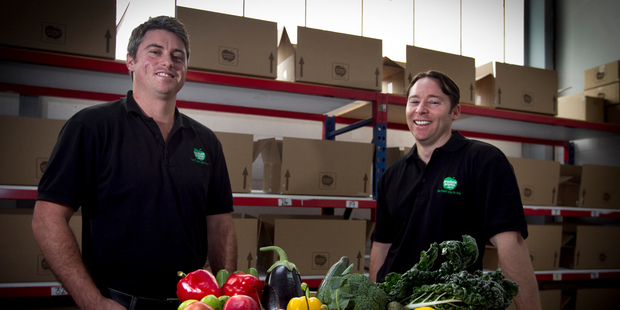 It's a brave new business which takes on the supermarket industry.
But that's what Joshua Bartley-Smith and Jason Brennan, founders of Produce Pronto, the online, home-delivery fruit and vegetable business, have set out to do.
The two school friends from Macleans College say that supermarkets have 75 per cent of the fruit and vegetable retail sector and Produce Pronto can do it better.
Supermarket shoppers are typically buying their fruit and vegetables at anything between two and five days after the "pristine" produce has been bought at the market, claims Bartley-Smith.
Their produce, by contrast, is delivered to customers on the day it has been bought from the wholesale market.
Bartley-Smith, who in his youth worked for one of the country's main wholesalers, Freshmax, is the buyer.
He's at the market each weekday at 3am, then hands his purchases over to a team of packers at his Mt Wellington warehouse.
All the orders are out the door by 9am in courier vans.
The business is doing more than 100 deliveries a day Monday to Friday.
Delivery is free for orders above $30 and prices are similar to the supermarket.
Bartley-Smith, who has also worked in IT, has made sure the business invested $250,000 in software development with system links to a courier GPS and customer delivery tracked in real time.
"The typical customer is a household where both parents [are] working. They are very busy, they've got so much going on," Bartley-Smith says.
Produce Pronto offers a quality guarantee.
"If a customer gets something they don't like, we give them a credit," he says.
"We grade each piece, we do our best, we hardly ever have to use the guarantee."
Since launching last August, the Mt Wellington-based company's monthly sales have grown from $8000 to $55,000 in 10 months.
The monthly revenue goal is to reach $100,000 a month by April next year.
In the three to five-year plan, Produce Pronto would like to be the number one delivery company for fresh produce in New Zealand, with a turnover of $200,000 to $300,00 a week or more.
From early on, Produce Pronto caught the notice of Chrisco entrepreneur Richard Bradley, and he has become the founders' business mentor.
"Richard approached us after sampling our product. He offered his services free of charge in an effort to give something back," says Brennan, who acts as a silent partner, still working full time in a corporate sales and marketing job.
"His advice to us has helped shape and improve crucial aspects of our business model, particularly on aspects of our customer offer."
Although the majority of Produce Pronto deliveries are going to homes throughout Auckland, the business has also taken on corporate clients who now represent around 15 per cent of turnover.
Offices are ordering fruit for their staff canteens or coffee rooms.
The Library Cafe in Onehunga is also a customer.
"The hardest thing for us is getting people to try us and trust us," says Bartley-Smith.
As the company grows, it will expand its offering.
Its non-produce range includes Loaf artisan bread, nuts, herbs and Eden coffee.
Produce Pronto has had approaches to do wine, and think it's most likely expansion will be in meats, cheeses, and milk long-term.
Next on the agenda are Wellington and Christchurch.
The founders are trying to fund everything themselves so they do not have to give up a shareholding, but they realise this will only get them so far.
Brennan says: "A franchise option is definitely on the radar."