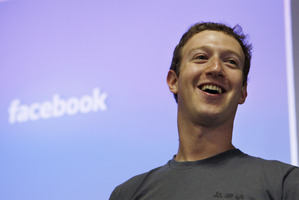 The anger surrounding the sharp decline in the value of Facebook shares deepened yesterday when investors who have lost millions discovered that its founder apparently saved more than US$170 million ($225 million) by selling early.
Mark Zuckerberg, the social network's founder, sold shares in the company worth US$1.125 billion on Friday, the day it floated on New York's Nasdaq stock market. But the price plummeted soon afterwards, from the US$38 a share at which Zuckerberg sold his stock. The price difference meant Zuckerberg saved US$174 million by getting out early.
The shares closed at US$32 on Wednesday, 15 per cent below the float price.
Some investors are now suing Facebook and the banks that organised its public listing for not revealing information about the firm's financial health prior to flotation. One of the lawsuits filed in New York by three investors alleges that the company's documents about its initial public offering, or IPO, included various untrue statements.
A major point of contention is the claim that a "severe reduction in revenue growth" - linked to the growing numbers of users accessing the website on mobile phones rather than computers - was concealed.
Facebook, which is being sued as a company along with Zuckerberg, other leading executives at the company and its lead underwriters - Morgan Stanley and Goldman Sachs - has denied the claims.
Another lawsuit filed in California claims Facebook and its banks actively misled investors. The banks deny any wrongdoing.
However, the claim that Zuckerberg was able to profit by selling his shares in the knowledge that the share value would likely decline, while others bought in without the benefit of the facts, has heightened the controversy.
It has even led to the term "Zucked" being coined to describe what happened to the investors who lost money.
The United States Senate Banking Committee is to investigate the affair.
- Independent