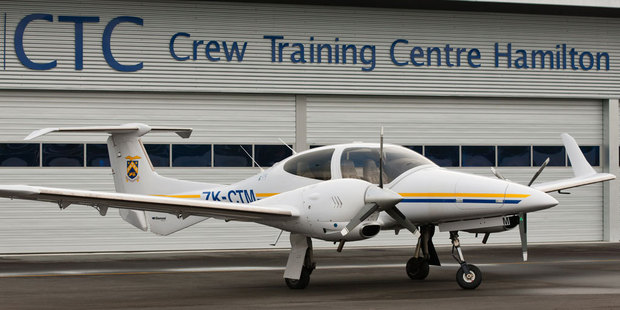 CTC in Hamilton will be training pilots for Qatar Airways in light aircraft like the DA42 Twinstar. Photo / CTC
A Hamilton aviation centre will soon begin training pilots for Qatar Airways, including a group of students from Qatar who head downunder later this year.
The sovereign Arab state's national carrier has selected global training organisation CTC Aviation to supply it with pilots, as it plans significant growth.
Ian Calvert, CEO of CTC Aviation Training NZ, said the contract means Kiwis trained at its Hamilton centre will have an excellent route into flying for a leading airline.
"In the first instance, CTC will supply Qatar Airways with cadets from New Zealand and the UK.
"These will be pilots who have completed their training as part of the CTC Wings programme," he said.
The initial numbers will be relatively small, about five or six cadets per course, but as the airline increases growth, those numbers will rise, Calvert said.
Qatar Airways has orders worth over US$50 billion for various aircraft, meaning it is carrying out a strong pilot recruitment campaign around the world.
Later in the year the Hamilton centre will begin training pilots for the airline through its Multi-Crew Pilot License (MPL) course and the first intake will be populated solely by Qatari nationals.
Six Qataris will begin their initial theory training in the UK in July, before heading to the Waikato around Christmas for light aircraft training.
Following intakes for the MPL training should include more Kiwis, Calvert said.
"There will not be enough Qatari nationals to meet the airline's needs so they will need international recruits.
"The reason they're looking to us to take care of the whole training process is because they are concentrating on getting their airlines in the air."
Voted Airline of the Year 2011, Qatar Airways operates 108 aircraft and flies to 113 destinations worldwide.
Calvert said the reason students are sent from all over the world to train in Hamilton is because the school's light-aircraft training is exceptional.
"Our light aircraft training is much better, much cheaper and to a higher standard than anyone else."
The first 18 pilots selected by the airline will complete their training at CTC's UK-based training centre in the coming months and commence line operations with Qatar operating out of Doha during summer 2012.
CTC Aviation trains about 2,000 pilots each year at its training centres in the United Kingdom and New Zealand, supplying around 50 airlines.