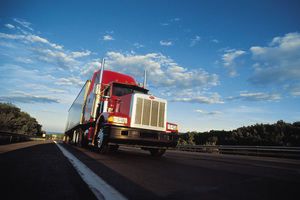 ANZ's Truckometer rose 1.2 per cent last month, reversing March's 0.8 per cent fall, but this still indicates a bumpy road ahead for the economy.
The Truckometer is based on traffic flows on carefully selected roads which historically have provided a good pointer to economic activity, as measured by gross domestic product, six months later.
"With its unique six-month lead, the Truckometer is detecting glimmers of light that could signal the end of a tunnel that standard economic indicators are only just starting to reveal we are in," said ANZ economist Sharon Zollner, who designed the indicator.
"Until this month's data came out it looked like the thing was still trending downwards," she said.
"This is only one month's data and it may resume its fall next month of course. But it appears to have found a bottom. That suggests a weak June quarter and some of that weakness persisting into the September quarter."
Though its headlights point further than other indicators, Zollner cautions that the Truckometer has limitations.
"It will not fully pick up the boost to GDP coming from the Christchurch rebuild," she said.
The limited data available so far for the current quarter have been mixed.
"Corroborating the Truckometer, we've seen the April performance of manufacturing index tank and weaker house sales," she said.
"On the other hand, business confidence has remained robust, and electronic card transactions data for April were solid."
Light vehicles provide the best lead to activity six months ahead.
"It would appear that willingness to buy and drive a car is the ultimate measure of true, money-where-your-mouth-is consumer confidence," Zollner said.
Heavy traffic is more contemporaneous with GDP and provides a useful robustness check on predictions.